Peter Robinson's united Ireland remarks 'dangerous'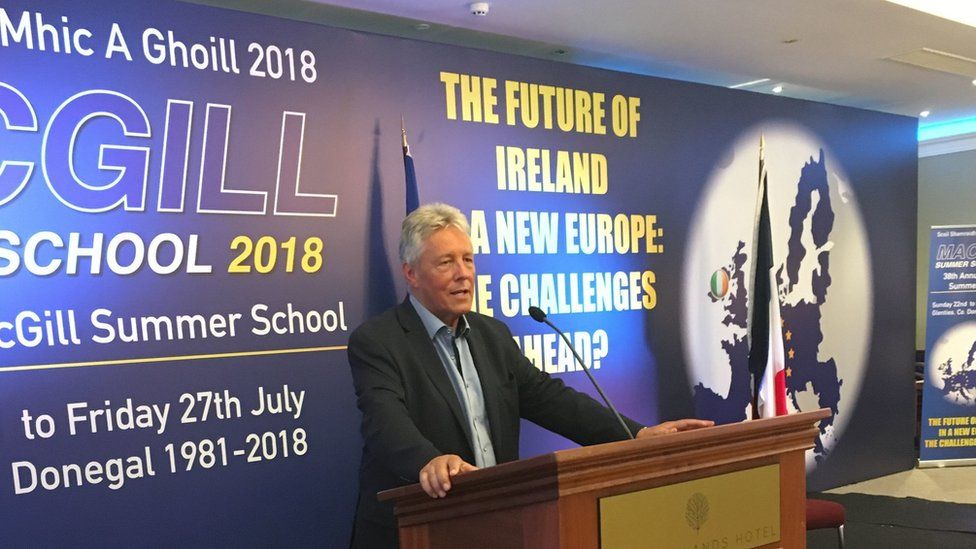 A call to prepare for a possible united Ireland is "an invitation to republican arsonists to come in and burn our house down", DUP MP Sammy Wilson has said.
He made the comments in a strongly-worded statement criticising remarks by his ex-party leader, Peter Robinson.
Mr Robinson has said he did not think Northern Ireland would vote to leave the UK, but people should prepare for that possibility and accept the result.
"I don't expect my own house to burn down but I still insure it," he added.
Mr Robinson made the analogy on Friday when he was a guest speaker at the MacGill Summer School in Glenties, County Donegal.
Addressing the possibility that a future border poll could result in a vote for a united Ireland, Mr Robinson added: "As soon as that decision is taken, every democrat will have to accept that decision."
However, his comments have drawn anger from some unionists.
Mr Wilson, his Democratic Unionist Party colleague, described Mr Robinson's suggestions as "dangerous and demoralising".
"I don't prepare to go to the moon in Richard Branson's space shuttle because I have no intention of ending up there," he said.
"Preparing for a possible united Ireland is not an insurance policy against something unpleasant happening, it is an invitation to republican arsonists to come in and burn our house down."
Mr Wilson also accused the Taoiseach (Irish Prime Minister) Leo Varadkar and his deputy Simon Coveney of "blatant Brit bashing".
There have been recent tensions between the British and Irish governments over Brexit.
Mr Wilson said the Irish ministers' behaviour, together with the "increasing sectarianism of Sinn Féin" would be enough to convince unionists that "there would be no safe place for them in a united Ireland".
The East Antrim MP added that calls for a "once in a generation referendum" on a united Ireland would be a destablising force which would allow republicans to "continue to poison the mind of young people".
Mr Wilson acknowledged that his former boss was "a committed unionist and was one of its best advocates".
However, he said he wanted to "preach the reasons why we should keep the union, not prepare for its destruction".
Mr Robinson was also criticised by the chair of the Ulster Unionist Party, Lord Empey, who accused him of "becoming a Sinn Féin echo chamber".
The peer said the remarks were the "latest in a long line of proposals from Peter Robinson that are detrimental to Northern Ireland".
Traditional Unionist Voice (TUV) leader Jim Allister described Mr Robinson's suggestions as "foolhardy" and dismissed him as "yesterday's man".
"By his crass comments he fed the republican myth of the inevitability of Irish unity," Mr Allister added.