Rasharkin Orange Hall targeted by vandals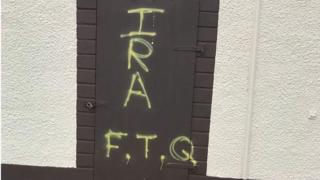 An Orange hall in Rasharkin, County Antrim, has been targeted by vandals.
It is understood the building, on Main Street in the town, was daubed with republican graffiti between 21:00 and 23:00 BST on Saturday.
The hall was previously targeted in 2016.
Ballymoney councillor Darryl Wilson described those who carried out the attack as "mindless idiots who are not representative of the wider Rasharkin community".
"Unfortunately, tolerance and respect are qualities which are still lacking in a minority of individuals hell bent on threatening and intimidating others," said the Ulster Unionist Party councillor.
He added that he believed the attack was designed to heighten tension ahead of a band parade in the village next month.
North Antrim MLA Mervyn Storey said it was "extremely sad" that there were still people in the community "offended by bricks and mortar".
The Democratic Unionist Party politician urged anyone with information to contact the police and said the attack was "only a reflection of a deep-seated hatred by a very small unrepresentative group of individuals".