Judge warns of Ballymurphy inquest 'drift'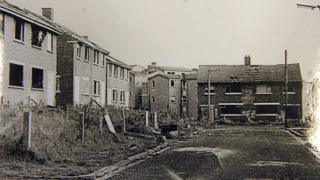 The judge presiding over an inquest into the deaths of 10 people in Ballymurphy in 1971 has said she is "concerned about drift".
She also warned lawyers against taking an adversarial approach to the case.
Meanwhile, a disclosure date of 7 September for military statements has been accepted.
A preliminary hearing on Friday was told that 10 signed statements have been received but only seven have gone through the redaction process.
Members of the Parachute Regiment have always been held responsible for the civilian deaths during three days of gunfire involving soldiers in the west Belfast estate in August 1971.
However, in May of this year the loyalist Ulster Volunteer Force said one of its members was involved in the shootings and may have killed some of the victims.
Ten people were shot dead, including a priest trying to aid one of the wounded and a mother-of-eight. Another man later died of heart failure.
Witness X
Mrs Justice Keegan said that a loyalist interlocutor - 'Witness X' - should engage with the coroners' office over the next four weeks but denied them "interested persons" status.
She also said that Witness X's statement should be examined by a ballistics expert.
The preliminary hearing will continue on 29 August.
The judge said she would give a view on the progress of the case on that date if she thought it necessary.
She reminded the court that the inquest is an inquisitorial process and said she was concerned that the case was "getting into minutiae".
A barrister representing the coroner's service said that matching "ciphered soldiers" in witness statements taken in 1971 to names was an "incredibly difficult exercise" saying expectations needed to be tempered.
A lawyer for the Ballymurphy families told the court that a "cohort of people" was not going to co-operate with the inquest.
She denied the case was being "micro managed".
She said that they were simply trying to fulfil the shared task of identifying ciphered soldiers.
The lawyer asked the court to rule on the strategy employed by the coroners officer with respect to gathering evidence from military witnesses.
"The strategy isn't working, we say it is time for a change," she said.
Two hundred and forty responses have been received to a questionnaire sent to potential military witnesses.