Titanic artefacts could return to Belfast
By Mark Simpson
BBC News NI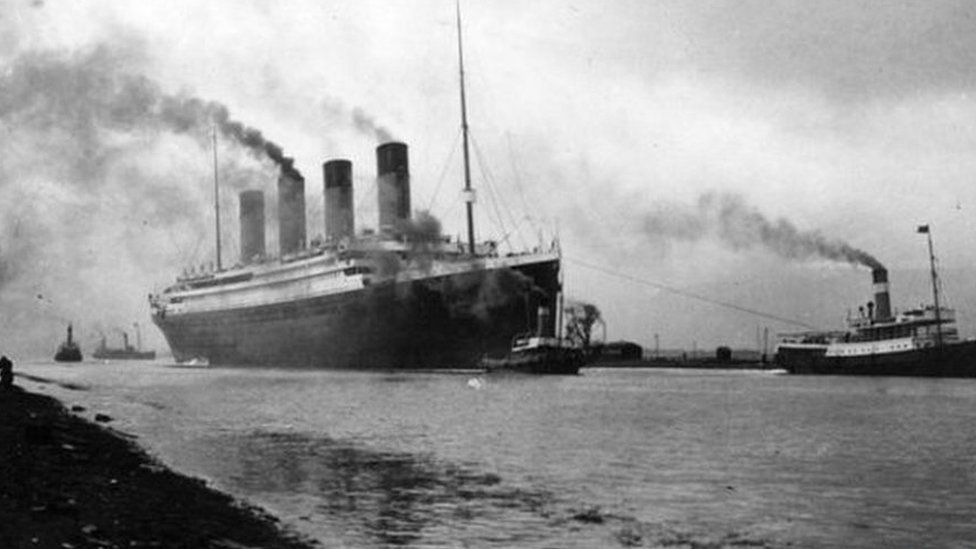 Artefacts recovered from the shipwreck of the Titanic could soon be returning to Belfast where the liner was built.
A multimillion-pound campaign began on Tuesday to try to buy the 5,500 artefacts from an American company and bring them to the UK.
If successful, many of the artefacts would go on display at the Titanic Belfast exhibition centre.
The collection includes a piece of the hull and sets of china from the ship which sank in April 1912.
There is no guarantee the bid will succeed but the campaign is being backed by James Cameron, the Oscar-winning filmmaker who made the 1997 movie Titanic.
"The sinking of the Titanic was a heart-breaking moment in history," he said.
"Securing the irreplaceable collection of artefacts, protecting and preserving them for future generations, by placing them in the public trust, is a unique and important opportunity to honour the 1,503 passengers and crew who died."
The current owners of the collection, Premier Exhibitions, have filed for bankruptcy in the United States.
A number of different bidders are trying to buy the artefacts.
Conal Harvey, deputy chairman of Titanic Belfast, said: "We are campaigning to bring these artefacts home, where they will protected and preserved through public ownership and on display for the world to enjoy."
The $20m (£15m) campaign is being backed by Royal Museums Greenwich, National Museums Northern Ireland, Titanic Belfast and Titanic Foundation Limited.
The artefacts were recovered from the seabed over the course of seven deep sea expeditions between 1987 and 2004.
National Geographic has already pledged $500,000 (£380,000) to the campaign.
Dr Robert Ballard, the oceanographer who discovered the Titanic wreck, is supporting the venture.
"This bid is the only viable option to retain the integrity of the Titanic collection," he said.
"The collection deserves to be returned home to where its journey began."
Legal proceedings are continuing in the US over the bankruptcy and are expected to come to a conclusion soon.
The Titanic was the world's largest passenger ship when it entered service.
It sank on its maiden voyage in 1912 with the loss of more than 1,500 lives.