'We're not going to be intimidated' - Mary Lou McDonald
By Mark Simpson
BBC News NI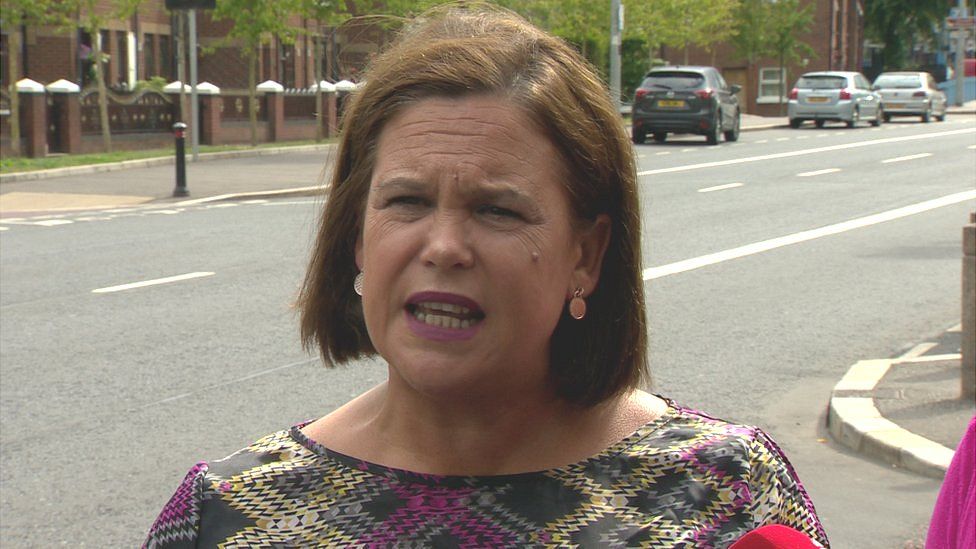 Republican politicians will not be intimidated by the attack on the Belfast home of Gerry Adams, Sinn Féin President Mary Lou McDonald has said.
Speaking at a news conference in west Belfast, Ms McDonald said she blamed dissident republicans.
She said if the attack was part of a "ruse" to try to undermine Sinn Féin, it would not work.
A rally is being held in West Belfast in support of Mr Adams and senior republican Bobby Storey, whose home was also attacked.
There is speculation that Belfast solicitor John Finucane is being considered.
She said she had seen the speculation but did not comment on the likelihood of him being selected.
Sinn Féin formally announced on Saturday that it would contest the presidential election.
A party selection committee will report next week and the Sinn Féin Ard Comhairle will meet at a later date to consider that report.
One of the party's MEPs, Liadh Ní Riada, has also been mentioned as a potential candidate.
Last week, sitting president Michael D Higgins confirmed he will stand for re-election for a second term.
The 77-year-old was elected in 2011 for a seven-year term.