Wreaths retrieved in Newry from muddy river bed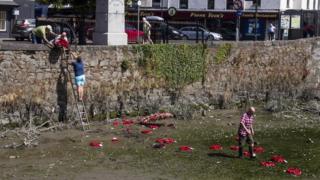 People in Newry formed a human chain to retrieve wreaths which had been thrown into the Clanrye River.
Police are investigating after the wreaths were found on mud below the city's riverside cenotaph on Saturday morning.
A "cross-section of the community" took part in the retrieval, according to a local councillor.
The incident came just days after poppy wreaths were vandalised in nearby Warrenpoint.
Using a ladder the group climbed down on to the mud of the Clanrye River bed which has emerged due to the dry weather conditions.
Forming a line, they managed to return the wreaths to Newry's war memorial at Bank Parade.