CCTV footage shows attack on Adams home from moving car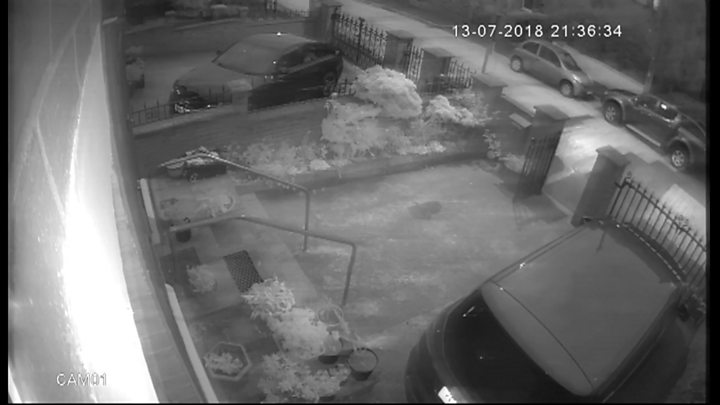 An explosive device thrown at the home of former Sinn Féin president Gerry Adams was hurled from a moving car, CCTV footage appears to show.
The recording, from a camera outside the property, was released by Sinn Féin on Sunday.
It shows a car passing his driveway in west Belfast on Friday night.
As it passes, sparks can be seen around a parked car in a driveway and then black smoke.
On Saturday, Mr Adams said he was thankful that no one was hurt in the attack.
Sinn Féin activist Bobby Storey's house was also attacked and the PSNI said the devices thrown at both homes were believed to be "large industrial or commercial fireworks".
Damage to a car on Mr Adams' driveway was visible in the aftermath of the attack.
Mr Adams said he was unsure whether there was a connection between the attacks and the recent violence in Londonderry, which is being linked to dissident republicans.
In a direct appeal to the attackers, he said: "I'd like them to sit down and explain to me what this is about.
"I'd like those who are involved in exploiting children in Derry to do the same thing, or those who are poisoning the atmosphere in east Belfast and causing havoc to do the same thing."
He said those responsible were "resistant to change" and the groups that had stepped away from the peace process saw Sinn Féin as the enemy.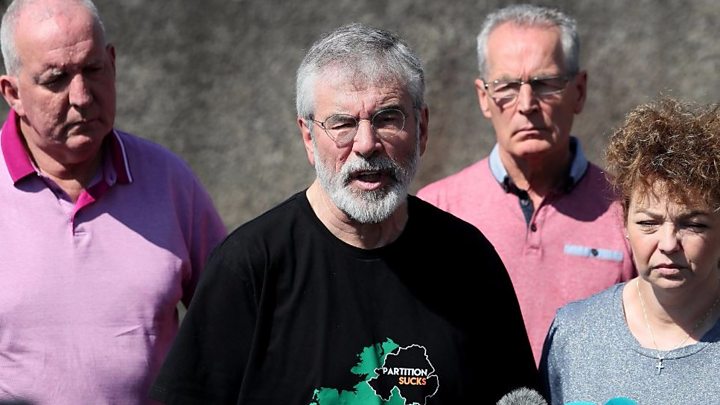 Sinn Féin President Mary Lou McDonald will be the main speaker at the rally, which will also be attended by Mr Adams and Mr Storey.
'Warped people'
By Chris Page, Ireland correspondent
Gerry Adams has spoken several times in the past about death threats made against him - by loyalists and by dissident republicans who are opposed to the peace process.
Sinn Féin's statement about the attacks on the homes of Mr Adams and Bobby Storey doesn't explicitly pin the blame on republican splinter groups.
However, the party's reference to "increasingly desperate and irrelevant groups" firmly points in that direction - and republicans who have expressed support for Mr Adams on social media have condemned dissidents as "criminals" and "thugs".
A number of hours earlier, Mr Adams's successor as Sinn Fein President - Mary Lou McDonald - strongly denounced the dissidents who are believed to be behind recent rioting in Londonderry as "warped, negative, regressive, dangerous people".
Who is Gerry Adams?
Mr Adams, 69, spent nearly 34 years at the helm of Irish republican party Sinn Féin.
During The Troubles Mr Adams survived several attempts on his life, including a 1984 gun attack by loyalist paramilitaries.
He is one of the most recognisable and controversial figures in Irish politics.
Two months after the death of Martin McGuinness in 2017, Mr Adams announced he would step down as leader. He was succeeded by Mary Lou McDonald.
You can read a full profile here.