Sophia Gibson: Cannabis oil wait girl admitted to hospital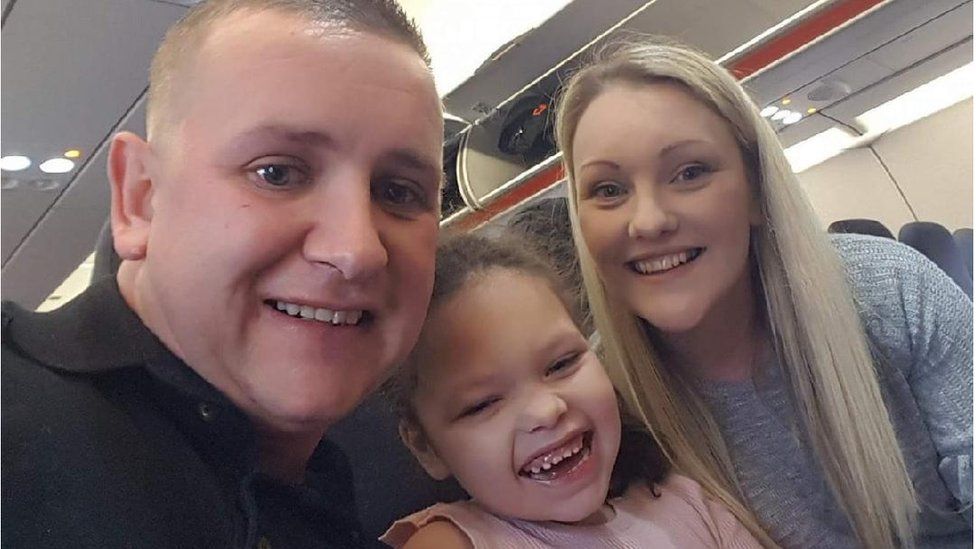 A seven-year-old girl who is waiting to hear if she can be treated with medicinal cannabis oil has been admitted to intensive care.
Sophia Gibson, from Newtownards, County Down, suffers from a genetic condition which can lead to frequent fits.
Her parents have applied for a licence to use the oil.
However, they said that a new review of its benefits has created more red tape and called on the Home Office to grant the licence immediately.
The parents of Sophia, Danielle and Darren, said the medication relieves the symptoms of Dravet syndrome, a severe form of epilepsy.
She was previously treated with the medication when her family took her to the Netherlands.
They said she is now in intensive care in the Royal Victoria Hospital after suffering a severe seizure that led to her being put into an induced coma.
"How much more Sophia can take of this, I just don't know," said Danielle Gibson told the Press Association.
"I am just praying that she makes it though the night.
"I just hope she has enough fight in her to keep going.
"No parent wants to see their child like this, and there are so many other children like Sophia, something needs to be done, there has been too much stalling (around medicinal cannabis)."
In a statement earlier on Tuesday evening, Sophia's family said she has been placed on life support.
"Sophia needs everyone's prayers and well wishes more than ever," they said.
Boy allowed medication at home
"This afternoon Sophia had a very bad seizure lasting near an hour which has resulted in Sophia being sedated and placed on life support.
"Danielle is currently with her at the Royal Victoria Hospital in Belfast where Sophia is critical.
"We can't reply to everyone individually that have already sent messages or phone calls but we appreciate it and will up date you as we and the family know more."
The review on the use of medicinal cannabis was prompted by the case of Castlederg boy Billy Caldwell.
Earlier in July, a licence was granted for the 12-year-old, who is severely epileptic, to be treated with medicinal cannabis.
On Tuesday, the Belfast Health Trust announced that Billy Caldwell will be able to receive the medication at home instead of making visits to hospital.
Hannah Deacon, who legally brought medicinal cannabis oil through the UK border for the first time after being given a special licence, said she was concerned for the Gibsons.
Her son Alfie, 6, has a rare form of epilepsy.
"I'm urging the Home Office today to issue an emergency licence for her. She's proven that it works," said Ms Deacon.
"We need to act quickly. We've suffered so much, these people shouldn't suffer.
"It's horrendous that another child is suffering again because of bureaucracy."