Equity firm Lonsdale buys stake in Elite Electronic Systems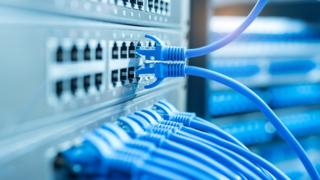 A private equity firm has bought a significant stake in the Fermanagh-based manufacturer Elite Electronic Systems.
Elite provides manufacturing services to customers in industries like telecoms, medical devices and power generation.
It employs more than 200 people at its facility in Enniskillen.
The investor, Lonsdale Capital Partners, specialises in medium-sized UK companies.
'Additional firepower'
Jonathan Balfour, the managing director of Elite, said the the deal will mean the firm has "additional firepower" to expand its capabilities in new industries.
Mr Balfour will continue to lead the company alongside fellow director Neville Hale.
Elite has annual sales of around £20m and has recently won significant contracts for athletic tracking devices.
The investment from Lonsdale is aimed at growing the business in the UK through organic growth and the purchase of other businesses.
Andrew Chetwood, director at Lonsdale Capital Partners, said Elite is operating in a "fast-growing niche" and has a strong market position.
"Elite exemplifies the key qualities that Lonsdale looks for in its investments."