Man's death in police custody in Belfast investigated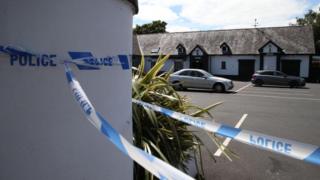 The circumstances surrounding the sudden death of a 26-year-old man at Musgrave Police Station in Belfast are being investigated by the Police Ombudsman's Office.
The man died in the station's custody suite, where he had been taken after an incident at The Chester bar on the Antrim Road in north Belfast.
Police said the man had died following medical treatment on Monday morning.
They said the man was arrested on Sunday evening, at about 21:30 BST.
Police said this followed "reports of a disturbance at licensed premises on the Antrim Road in north Belfast".
They added that a police investigation into the circumstances surrounding the disturbance is under way and they have appealed for information.
The Police Ombudsman's Office said it had been notified by police of the man's death and that it had "commenced an immediate investigation into the circumstances".
"Our investigators have been at Musgrave police station throughout the night, and are continuing to gather information about the course of events leading up to the death," a spokesman added.
"We will be speaking to all potential witnesses, gathering forensic evidence, reviewing CCTV footage and securing all relevant PSNI documentation.
"A post mortem examination will be conducted in due course."
The name of the man who died has not yet been released.