MPs to sign off on spending plan for Northern Ireland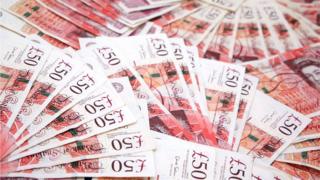 MPs are expected to give the legal authority for money allocated in the Northern Ireland budget to be spent.
It includes the £410m secured by the DUP in 2017 as part of its confidence and supply deal with the Conservative Party in 2017..
The arrangement saw the government agree a financial package with the party in exchange for support on certain issues.
Northern Ireland has been without an executive since January 2017.
The governing parties - the DUP and Sinn Féin - split in a row over a flawed green energy scheme.
Subsequent talks have failed to restore devolution.
Rubber stamping exercise
There have been concerns that some of the money for infrastructure and transforming health care will not be spent in the absence of ministers at Stormont.
The Northern Ireland budget bill returns to Westminster on Monday for what is likely to be a rubber stamping exercise to clear the way for next year's budget to be allocated.
It will legally underpin what has already been set out in the spending plan.
It includes the £410m - earmarked for health, education and infrastructure - negotiated by the DUP as part of its deal with the Conservatives.
But some of the spending may be held up after a court last week challenged the legal authority of civil servants to make some decisions in the absence of ministers.
Northern Ireland Secretary Karen Bradley is now under pressure to decide how those decisions will be made.