More than 30 petrol bombs thrown at police in Derry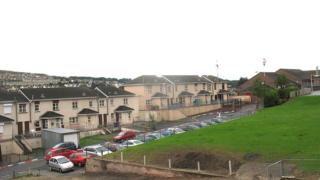 More than 30 petrol bombs were thrown at police during disorder in Londonderry on Saturday night.
The trouble happened at the Fountain estate interface and Nailor's Row in the city's Bogside.
Shortly before 22:00 BST, three petrol bombs were thrown into the mainly Protestant Fountain, one of which ignited, before police were attacked with petrol bombs, bricks and bottles.
On Sunday night, police said there was another attack on the Fountain estate.
"Police resources are now moving in to protect people and evidence gathering teams have been deployed," the PSNI said in a tweet.
Shortly after 23:00, the PSNI tweeted that the Lecky Road flyover in the Bogside had been "blocked with burning bins" and was "best avoided".
DUP MLA for Foyle Gary Middleton tweeted to say bottles had been smashed in the gardens of homes in the estate on Sunday night.
Supt Gordon McCalmont called Saturday's disorder "an attack on our whole community".
"I would like to express my thanks and admiration to those in the community and my colleagues who worked tirelessly to minimise the impacts of this disorder and indeed bring the situation under control," he said.
"I would also appeal to those in the community to use their influence to help us maintain control of the situation so that we do not have a repeat of this behaviour.
"I would, however, like to reassure the community that we will deploy the necessary resources to detect and deter those responsible."
'Completely reprehensible'
There have been a number of attacks on the Fountain estate in recent weeks.
Politicians have condemned the latest violence.
In a tweet on Saturday the DUP's Gary Middleton said: "We must all stand against these sectarian attacks. The PSNI must do all they can to protect the residents of the Fountain."
SDLP MLA Mark H Durkan said: ''For the second week in a row, petrol bombs have been thrown into the Fountain estate.
"The destruction and death that could have been caused does not bear thinking about.
"These attacks are completely reprehensible and those behind them must be brought to their senses and brought to justice."
'Terrorising your own community'
Sinn Féin MLA Karen Mullan said: "A number of petrol bombs have been thrown into the Fountain estate.
"There were several more thrown right outside the gates of Alexander House.
"Wrecking and terrorising your own community or a neighbouring community is wrong and is not reflective of the proud community that is the Bogside."
The MLA for Foyle also reacted on Twitter to the further incidents on Sunday night.
'Pure sectarian hatred'
The deputy mayor of Derry and Strabane, UUP councillor Derek Hussey, also condemned the latest attacks on the Fountain estate.
"The Fountain has com under attack in recent weeks for one reason and one reason alone - pure sectarian hatred," he said.
"This is a small protestant community whose very existence is an affront to a section of republicans who will not be content until all protestants are removed from the west bank of the Foyle."