Leo Varadkar welcomes Brexit plan agreement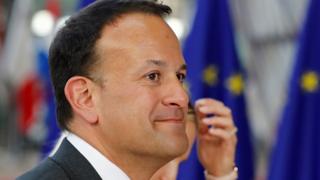 Irish Prime Minister (Taoiseach) Leo Varadkar has welcomed a proposal by UK cabinet ministers over the UK's future relationship with the EU.
Mr Varadkar said he had discussed the plan with Theresa May in a "good phone call" on Saturday.
He tweeted that the proposals "can input into talks on the future relationship".
The plan was agreed by UK cabinet ministers at a 12-hour meeting on Friday.
Mrs May has said it "will be good for the UK and good for the EU". The prime minister is now seeking the support of Conservative MPs for the proposal.
Downing Street said the plan marked a "substantial evolution" in the UK's position and would resolve the outstanding concerns about the future of the border between Northern Ireland and the Republic.
The proposal will be formally published in a white paper in the next week.
Mr Varadkar tweeted that he will "await detail" from the white paper "before agreeing an EU position".
Irish national broadcaster RTÉ reported that the taoiseach made it clear that the Irish government was open to proposals that meet its aim of avoiding a hard border and maintaining free trade with the UK, while respecting the EU single market and customs union.
Earlier on Saturday, Simon Coveney, Irish Foreign Minister and Tanaiste (deputy prime minister), said the proposals marked the first time in six months in which there was a unified position from the UK cabinet.
"What we got yesterday was a clear statement from the British government that they want a close relationship with the single market, they want to do that in a way that avoids border checks and custom checks.
"I think that's a positive signal."
In a tweet, he said the proposals deserve "detailed consideration" and that the Irish government "look forward to publication of (the) white paper next week so that the EU task force can examine new UK approach".