No fresh inquest into McGurk's Bar bomb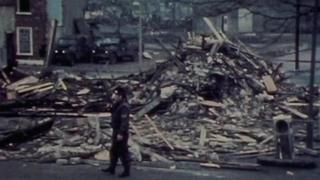 Relatives of victims of the McGurk's Bar bomb said they are devastated by a decision by the Attorney General not to order a fresh inquest into the deaths.
Fifteen people were killed in the attack by the Ulster Volunteer Force in December 1971.
Families of the victims asked Attorney General John Larkin to order a new inquest and said they sent him new evidence to support their request.
But he wrote to them yesterday to say their application had been refused.
Pat Irvine, whose mother Kathleen was one of those killed, said the families will now speak to their lawyers about their next steps.
"We're totally disgusted and very, very angry and we believe that the decision was made politically by the Attorney General," she said.
"He states at the end of his letter that he would welcome new evidence, he has been given new evidence throughout the whole system."
Her son Ciarán MacAirt, a spokesman for a number of the families, also said he believed new material provided by them merited fresh inquests.
"The families are absolutely devastated," he said.
"This is another kick in the teeth for families that have been campaigning constitutionally and with great dignity now for two, three generations."
Gerard Keenan, whose parents Sarah and Edward Keenan both died, said the decision was a "devastating blow".
"There are still too many unanswered questions about what happened before the attack," he said.
"An inquest would have been an ideal forum to address these fears and suspicions."
Lawyers representing a number of the families said they would now carefully consider the decision.