Terminal illness benefit change 'requires Stormont approval'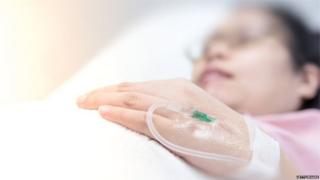 The Department for Communities has said it has no plans to alter its definition of terminal illness for Personal Independence Payment (PIP) applicants.
In June, six NI parties signed a letter calling for changes to the rules.
The system requires people with a life expectancy of longer than six months to undertake a face-to-face assessment to prove they qualify for the benefit.
The department said any deviation from the rules existing in GB would require a functioning Stormont executive.
"It would be the role of the executive and the assembly to instigate any change in current social security policy in Northern Ireland, especially where it deviates from parity," the department replied to the parties.
"Officials will be monitoring the position," it said.
Three-month wait
Following their assessment, applicants can face a wait of up to three months for payment.
The DUP, Sinn Féin, SDLP, UUP, Alliance and Green Party signed the June letter.
The politicians described the current system as "cruel, traumatic and lacking in dignity and compassion".
'Hugely disappointing'
Sinn Féin MLA Alex Maskey has described the department's response as "hugely disappointing".
He said it did "a massive disservice to some of the most vulnerable people in society".
The letter sent by the parties also called on officials to set up a working party with their Scottish counterparts to consider changes to the PIP rules.
No limit
In April, the Scottish government announced there would be no limit set on how long a patient has left to live before their condition was considered "terminal".
The department replied that it is in regular contact with officials in Scotland.
Northern Ireland has been without an executive since January 2017.
A Department for Communities spokesperson said: "The commencement of any review of the arrangements for terminally ill cases in Northern Ireland would be a matter for consideration and decision by incoming ministers.
"Until that happens, the Department will continue to maintain parity of practice with GB."