Rasharkin gorse on fire for 24 hours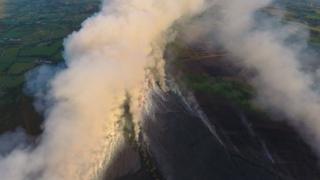 Fire fighters have been battling a gorse fire in Rasharkin, County Antrim for more than 24 hours.
The Northern Ireland Fire and Rescue Service (NIFRS) has six appliances and specialist wildfire resources at the scene in the Drumack Road area.
A NIFRS spokesperson said the fire front is currently 800m long.
Fire crews have battled 665 gorse fires in the past week, many of them started deliberately.
Motorists have been advised to take care and local residents told to keep their windows closed due to heavy smoke.
"The fire has fluctuated due to the direction and strength of the wind and the materials involved - heavy gorse and peat," said a NIFRS spokesperson.
"Smoke from the fire is impacting roads in the neighbouring area and we advise motorists to take care. Residents in the local area are advised to keep their windows closed."
'Exceptionally hot'
Assistant Chief Fire and Rescue Officer, Alan Walmsley said NIFRS had experienced a significant increase in operational activity in recent days due to the exceptional hot weather and large number of gorse fires.
"Under the current hot weather conditions gorse fires can rapidly spread and can be difficult to extinguish due to their often remote location.
"Gorse fires can pose a serious risk to life, property and the environment, as well as placing extra strain on NIFRS resources," Mr Walmsley said.
From 27 June to 5 July the service has attended 1,456 incidents, of which 665 were gorse fires.