Crumlin Road car crash: Two men remanded in custody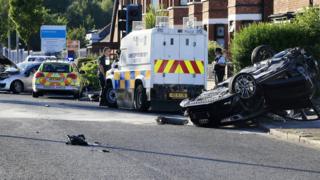 Two men have been remanded in custody in connection with a six-car crash on the Crumlin Road in Belfast on Tuesday.
Police had been following a stolen black Audi which later crashed in the Ardoyne shops area injuring several people, one of them seriously.
Ciaran Ferguson, 22, of Oldpark Road in Belfast, and Caolam Diver, 20, of Antrim Road in the city face a number of charges.
Both appeared at Belfast Magistrates' Court on Thursday with injuries.
Mr Ferguson, who was unsteady on his feet and was allowed to sit down and take a glass of water by the district judge, is charged with 14 counts including a burglary at Thirlmere Gardens, taking a vehicle, and dangerous driving.
He is also charged with driving whilst unfit through drink or drugs, driving without insurance and whilst disqualified, and faces further charges of causing grievous bodily injury to two people by dangerous driving.
Cut and bruised
Mr Diver's face was marked with two black eyes and he was holding his injured arm in front of his body.
He is charged with aggravated vehicle taking causing damage to property, allowing himself to be carried in the stolen vehicle, and possession of diazepam.
Bail was not applied for, and Mr Ferguson and Mr Diver were both remanded in custody.
Mr Diver will appear again by video-link on 11 July and Mr Ferguson on 2 August.
An 18-year-old woman has been charged with aggravated vehicle taking causing damage to the vehicle, in connection with the incident and will appear in court on 1 August.