Baseball bats used to beat man in aggravated burglary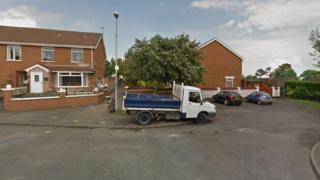 A man was beaten by three men with baseball bats at a house in west Belfast on Wednesday night.
The assault happened in the Downfine Walk area at about 20:30 BST.
The 26-year-old was taken to hospital with a cut to his head and bruising to his ribs. A 19-year-old woman who was also in the property at the time avoided injury.
Three men are believed to have made off on foot following the attack.