NI paper review: MLA pay cuts and car crash fallout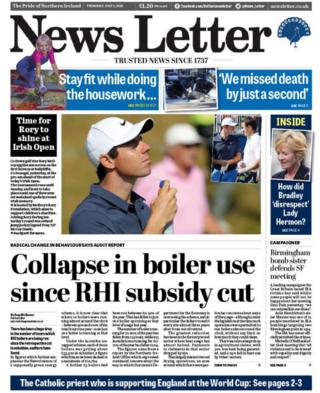 Calls for MLA pay reductions, concerns over reservoir jumping and remnants of a Crumlin Road car crash dominate Thursday's papers.
The front page of the Irish News reads: "Call for police review into stolen car chases".
It comes following a collision in north Belfast on Tuesday evening involving six vehicles.
A police car was in pursuit of a stolen Audi a1 before the crash happened.
The Police Ombudsman is now investigating the incident.
SDLP councillor Paul McCusker said the need for a review was "urgent".
He said police need to look at "regulations of when a pursuit is happening in built up residential areas".
Meanwhile, a man has told the News Letter he feels lucky to be alive after his car was almost struck by the stolen vehicle.
Thomas Mathews said his partner was giving him and a friend a lift to the pub.
"We had just driven out and your man came flying down. He was absolutely hammering," he said.
"If we had driven out a second before that he would have gone right into the side of us."
'Dicing with death'
Video footage showing children jumping into a reservoir in County Antrim features on the front page of the Belfast Telegraph.
A group of young people were filmed diving from a tower into Killylane reservoir on Wednesday evening.
DUP councillor Tim Girvan said: "They are dicing with death.
"I understand that we have very hot weather, but it's not worth the risk."
'Matter of urgency'
The paper also reports that former public standards watchdog, Sir Alastair Graham, has called the secretary of state to take action over MLA pay.
It comes after Karen Bradley revealed Assembly members have been paid £9m since Stormont collapsed in January 2017.
The Northern Ireland secretary said she had yet to decide on cuts recommended by an independent panel.
Sir Alastair told the paper: "It's utterly bizarre that the secretary of state will not proceed in that direction.
"With no immediate prospect of a return to devolution, the secretary of state should take action and treat this as a matter of urgency".
RHI-duction in heat production
The Renewable Heating Incentive scheme (RHI) makes the front page of both the Irish News and News Letter.
The papers report that an audit found the amount of heat produced has dropped by 33% since the introduction of reduced tariffs.
The RHI scheme was set up by the Northern Ireland Executive in 2012, as a way of encouraging businesses to switch from using fossil fuels to renewable sources for generating their heat.
The scheme's budget ran out of control because of critical flaws in the way it was set up, with subsidies for burning renewable fuel far greater than the cost of the fuels themselves.
From April 2017 the tariff paid to those who applied before 18 November 2015 was significantly reduced, bringing them inline with those who applied after that date.
Comptroller and Auditor General Kieran Donnelly said the cap "appears to have driven significant changes in the behaviour of those applicants".
The Daily Mirror reports that a local GP has said families with children suffering from epilepsy should not delay in applying for medicinal cannabis.
Dr George O'Neill told the paper: "We have seen how it has worked for Billy Caldwell and although it might not work for everyone, you will not know if you don't have access to it."
Charlotte Caldwell, Billy's mum, has been treating him with medicinal cannabis since 2016.
He has been receiving treatment in London after the Home Office granted a short-term licence for medicinal cannabis.