Catholic school's attempt to become integrated rejected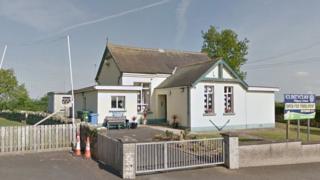 The first Catholic school in Northern Ireland to try to change to integrated status will not be allowed to do so.
The decision has been taken by the permanent secretary at the Department of Education (DE), Derek Baker.
Clintyclay Primary, near Dungannon in County Tyrone is a small rural school which had 36 pupils in 2017/18.
Parents of pupils there had originally voted in favour of the change to integrated status in 2014.
However, that move was rejected at the time, which led to legal action.
The then Education Minister John O'Dowd in turn appealed the decision to quash his order to close the school.
Following further legal hearings DE undertook to look again at the school's proposal to become integrated.
The Northern Ireland Council for Integrated Education (NICIE) had backed the school.
In a submission to DE in February 2018 it said that "integrated status in the long term would have positive benefits for the school and the community".
However, the department has announced that it has again rejected the school's attempt to officially become an integrated school.
'Could try again'
The permanent secretary Derek Baker has also said he would not agree to a proposal to close the school.
"This is a complex case, which has been complicated and drawn out by judicial review proceedings," he said.
"The evidence available demonstrates a number of sustainability issues, which clearly need to be addressed."
It will now be up to the Council for Catholic Maintained Schools (CCMS) to decide on Clintyclay's future.
However, Mr Baker has also left open the possibility that the board of governors could try again to turn the school into an integrated one.
A letter from the chair of the governors, Gerard Cunningham, to DE indicates that is something that they are considering.