Fire service deals with 600 gorse fires in a week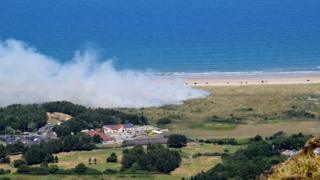 Fire crews have battled nearly 600 gorse fires in the past week, many of them started deliberately.
Ass Ch Fire Officer Alan Walmsley said it had been "very challenging" and resources were stretched.
Northern Ireland is in the middle of a heatwave, with temperatures hitting 30C, and as a result the ground is extremely dry.
Mr Walmsley appealed to the public to "help us and work with us when they are out and about enjoying the weather".
Meanwhile, there will be a hosepipe ban in place across the whole island of Ireland from Friday - on Wednesday, Irish Water announced it was introducing a ban, while NI Water did the same at the weekend.
Report it
Mr Walmsley said the fires had been spread throughout Northern Ireland and on Wednesday, fire crews were dealing with eight gorse fires, four of which were "significant".
He said the most "challenging" fire was on the Drumack Road, Rasharkin, County Antrim, where a specialist wildfire fighting team was at the scene.
He told BBC News NI that on Wednesday, crews had dealt with more than 160 calls and 30 were wildfire/gorse related.
While some fires are accidental, many are deliberate, he added.
"We would ask those who are doing it to stop," he said.
"We are having a challenging time, our demands are stretched. Anyone who sees this behaviour should report it to the PSNI."
Preventing fires in the countryside
Extinguish cigarettes and other smoking materials properly
Never throw cigarette ends out of car windows
Only use barbecues in designated areas and never leave them unattended
Make sure that barbecues are fully extinguished and cold before disposing of their contents
Avoid using open fires in the countryside
Do not leave bottles or glass behind - sunlight shining through glass can start a fire
Be considerate in parking vehicles so as not to impede access by emergency vehicles.
Source: nidirect