Dunmurry Manor owner challenges 'inhuman and degrading' findings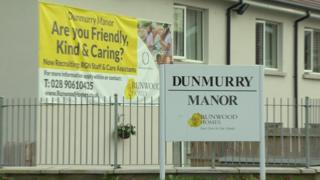 The owner of a Belfast care home where a report found residents had suffered "inhuman, degrading treatment" called the findings "flawed" and "inaccurate".
Gordon Sanders of Runwood Homes said he had apologised profusely to the families of those affected.
But he insisted such cases were "isolated".
He said parts of the report on Dunmurry Manor by the NI Commissioner for Older People were incorrect and his lawyers would be responding.
However, a spokesperson for the commissioner said all 61 findings of the independent investigation were based on evidence received and had been reviewed by the commissioner's expert panel.
'Horrific catalogue'
In his first interview since the publication of the damning report into the home, Mr Sanders said he would be challenging parts of that report through "the proper channels".
The report published in mid June found "a horrific catalogue" of degrading treatment at Dunmurry Manor.
It found that many residents had spent "their last few months living in appalling circumstances".
Northern Ireland's Commissioner for Older People, Eddie Lynch, said the report outlined a "disturbing picture where there were many significant failures in safeguarding care and treatment".
This led to many of the residents "not receiving adequate protection for prolonged periods of time".
But in an interview with BBC News NI, Mr Sanders said: "We're finding the outcome flawed in some areas and we'll be challenging those issues.
"I have apologised for those isolated cases that we felt we were failing in. In some cases where we were, I have apologised and will continue to apologise as necessary.
"I have met some of the families and explained to them I was upset and apologised profusely."
Mr Sanders said that as chief executive of Runwood homes in Northern Ireland, he visited between four and six times a year, normally for two to three days.
One of the challenges with Dunmurry Manor was that a series of managers were in post down the years. That has now changed, he said.
"We have found a stable manager, we are very happy with the quality of what we are providing at the moment," he said.
Mr Sanders added that staff had felt "challenged very severely over the last couple of weeks - unfairly".
'Excellent care'
Northern Ireland care regulator, the RQIA, was also criticised in the commissioner's report.
Its chief executive Olive McCleod said her organisation had done nothing wrong.
Mr Sanders, who owns 10 homes in Northern Ireland, said the RQIA were stringent in how they monitored homes.
"Dunmurry Manor has lost £700,000 since it has been open which is distressing in as much as we couldn't provide the care in those early days," he said.
"But since then, we have turned the home around and we are now providing excellent care in that home."
In February 2017, Mr Lynch said he was using his formal investigative powers for the first time to begin an inquiry into the home.
Describing his findings as "deeply concerning", the investigation also found reports of "evidence of physical and sexual assault on female residents" and of residents leaving the home unnoticed.
The overall situation was compounded by a "failure of responsible bodies to act quickly and comprehensively".
Formal response
The Commissioner for Older People for Northern Ireland's Office said Mr Sanders and colleagues were interviewed as part of the investigation and there was frequent communication with Runwood Homes' appointed solicitor.
"The draft findings were notified to the relevant authorities, including Runwood Homes in January 2018," a spokesperson said.
"They had an opportunity to test these draft findings and to provide evidence to refute them.
"Runwood has until October to provide a formal response to the commissioner's recommendations, outlining what will be done, and by when."
In a recent report, the Department of Health assessed Dunmurry Manor's current standards of care and said "during the visits, Dunmurry was assessed as being a safe place for people to live quality lives".