easyHotel 'previously received reassurances' about opening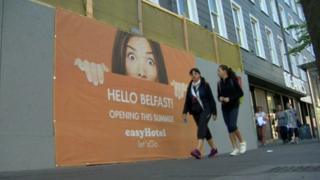 A new Belfast hotel that may not be certified to open because some rooms are too small has said it had previously "received reassurances" about its opening.
The easyHotel on Howard Street is part of a UK chain of budget accommodation.
The £5m hotel may not get the required certification to open because some of its double rooms are smaller than stipulated in Northern Ireland law.
The hotel is scheduled to open next month.
In a statement the hotel chain also blamed "delays at the Assembly" for not updating legislation.
It has written to the Secretary of State Karen Bradley "seeking urgent clarification."
The project involved the refurbishment of office space into an 81-bedroom 'super budget' hotel.
However, "a sizeable" number of its units are below the 13sq metres for double rooms set out in legislation drawn up in 1992 and last modified in 2009.
All accommodation in Northern Ireland, from hotels to airbnb properties, must be certified by tourism officials in order to operate legally.
In a statement, easyHotel told BBC News NI: "Our rooms are fully compliant with the very latest national guidance on room sizes.
"Procedural delays at the Assembly mean that guidance has not yet been updated in Northern Ireland, but in our on-going dialogue with Tourism Northern Ireland throughout the planning process we have received reassurances.
"Ultimately this is a discretionary matter and we have written to the Permanent Secretary at the Department for the Economy and the Secretary of State for Northern Ireland, seeking urgent clarification."