Billy Caldwell's return to NI is 'not being held up'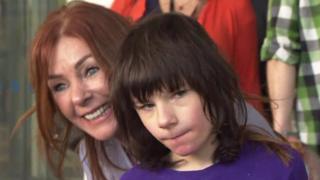 The Department of Health has rejected claims it has held up Billy Caldwell's return to Northern Ireland.
Billy, who is severely epileptic, has been receiving treatment in London after the Home Office granted a short-term licence for medicinal cannabis.
His mother Charlotte Caldwell said that decision needed to be ratified by NI's Department of Health before they could fly home.
The department has said it was actively working to resolve the problem.
Billy, 12, began using cannabis oil in 2016 to control his seizures.
The oil, which contains a substance called Tetrahydrocannabinol (THC), is illegal in the UK but available elsewhere.
'In the dark'
Ms Caldwell said they were "desperate" to get home to Castlederg, County Tyrone.
She accused the department of "blocking" their return and said she had been left "completely in the dark".
Ms Caldwell told BBC Radio Ulster's Talkback programme: "It's to do with the Northern Ireland Health Department.
"They need to issue this urgent licence and they need to issue it today."
However, the department said it was working to try and get Ms Caldwell and her son home.
"The department is actively working for a timely resolution to this matter. Any suggestion to the contrary is without foundation," a spokesman said.
"We are in constant contact with the Home Office and advising Belfast Trust on the licence requirements and the best way to promptly complete this process."
---
Does cannabis have medicinal benefits?
CBD and Tetrahydrocannabinol (THC) are two types of cannabinoids found naturally in the resin of the marijuana plant.
A cannabis-based drug called Sativex has been licensed in the UK to treat MS. It contains THC and CBD.
Doctors could, in theory, prescribe it for other things outside of this licence, but at their own risk.
MS patients prescribed Sativex, who resupply it to other people, also face prosecution.
Another licensed treatment is Nabilone. It contains an artificial version of THC and can be given to cancer patients to help relieve nausea during chemotherapy.
Source: NHS Choices
---
Billy's story was one of a number of high-profile cases which prompted the government to review the use of medicinal cannabis.
On Tuesday, the government said it would reach a decision within the next few weeks on whether the laws will be changed.