Birmingham bomb families meet DUP and Sinn Féin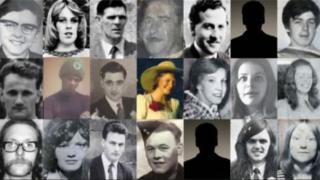 Families of the 21 victims of the 1974 Birmingham pub bombings are calling on the DUP and Sinn Féin to make progress on a truth recovery process.
Representatives of "Justice for the 21" have been in NI to meet Arlene Foster and Michelle O'Neill in separate Stormont meetings.
Twenty-one people died and 182 were injured when bombs exploded in two Birmingham pubs in November 1974.
The IRA has never acknowledged responsibility for the attacks.
One of the alleged perpetrators claimed last year the intention had not been to harm civilians, and that their deaths had been caused by a delay in delivering a telephone warning.
The families are continuing in their legal battle for the inquest to name those believed to be responsible.
Julie Hambleton, whose 18-year-old sister, Maxine, was killed, said the families would be pressing the party leaders to help find the truth about who carried out the bombings.
Bill Craig's brother, Jimmy, also died in the 21 November attacks.
Mr Craig said the families did not expect to find the truth in Northern Ireland but they were seeking support from all the main UK parties.
"All we want and all we ever wanted is the truth and we're having barriers put up against all the time," he said.
'Equality and dignity'
DUP leader Mrs Foster said her meeting with the families started by remembering those who died in the bomb.
"We have committed to following up on the issues raised with the families and I look forward to that ongoing relationship," she said.
Mrs O'Neill said she had extended sympathy on behalf of her party to the families.
"Sinn Féin said that all victims need to be treated with equality and dignity and respect," she said.
"We have consistently supported all families in campaigns for inquests which are compliant with Article 2 of the European Convention on Human Rights.
"We will also support the Birmingham families in this regard."