The early careers of some well-known faces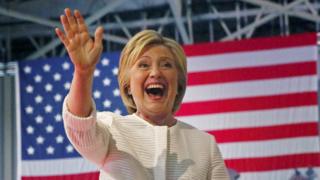 Summer jobs and other part-time work can be formative experiences for young people, but do they have any influence on a future career?
Can lion-taming help you win an Oscar, or will window cleaning help bag you a Grammy?
Teenagers may be struggling to get their foot on the career ladder, with recent research showing a falling trend in students' part-time employment.
BBC News NI takes a look back at the early jobs of some well-known faces whose career ladder has involved some unexpected climbs.
Hillary Clinton - fish gutter
The former presidential candidate says she worked every summer holiday from the age of 13.
After her college graduation in 1969, she travelled to Alaska and took a summer holiday job "sliming fish" - or removing their entrails.
She later joked to TV host David Letterman that it was the "best preparation for being in Washington that you can possibly imagine".
Christopher Walken - lion tamer
The US Oscar winner didn't quite run away with the circus when he was 16, but he did need all his acting skills when he took a summer job as a lion-tamer.
He had to pretend he wasn't scared and play the part of a circus owner's son who trained big cats to perform tricks.
In a 2015 interview, Walken modestly claimed the owner took all the risk with the animals before leaving him alone on stage with just one elderly lioness named Sheba.
Walken described Sheba as a "very nice old girl" who was "more like a house cat". Hmm, if you say so.
Liam Neeson - forklift driver
This Ballymena-born actor is renowned for having a very particular set of skills, skills he has acquired over a very long career. Before he found fame, though, he was a university drop-out.
Neeson left Queen's University, Belfast, in the early 1970s without finishing his degree and took a job in his home town as an apprentice forklift driver for Guinness.
In a Metro interview, he recalled telling his workmates that he had ambitions to become an actor, laughing as one replied he could be the next Roy Rogers.
It just goes to show that a university degree isn't the only route to success, because after lifting more pints of the black stuff than most, Neeson became the toast of Hollywood.
James Nesbitt - bingo caller
It was a case of legs eleven for the Cold Feet TV star who was just 15 years old when he got a job as a bingo caller in the County Antrim seaside town of Portrush.
He spent a few summers calling the balls at Barry's Amusements, Northern Ireland's biggest theme park, where he later also worked as a brake man on the Big Dipper rollercoaster.
Nesbitt shared his early microphone memories with the Reader's Digest, saying: "I can still remember all the names of the numbers: Colt [45], Heinz varieties [57], Big Jim's den [10].
"It's such an odd thing for a 15-year-old boy to do, but I loved it."
Mike Nesbitt - bin man
When talking about rubbish summer jobs, the former Ulster Unionist Party leader and ex-newsreader takes the leftover biscuit.
Back in the 1970s, he spent a summer holiday working as a bin man in Newtownards, County Down.
After boasting about the weight of a bin he had just lifted, a fellow refuse collector told him "self-praise is no recommendation".
Four decades later, Mr Nesbitt told the Belfast Telegraph it was the best piece of advice he was ever given.
Van Morrison - window cleaner
Before achieving global stardom, the Belfast-born singer tried his hand at a number of jobs to make ends meet.
After leaving school at 14, he spent a reportedly unhappy apprenticeship as a fitter in an engineering firm, and a spell cleaning pig carcasses in a bacon factory.
However, he also famously worked as a window cleaner around the streets of his native city.
Morrison put the experience to good use, taking it as inspiration for his songs Saint Dominic's Preview and Cleaning Windows.