Crumlin Road car crash: Four in hospital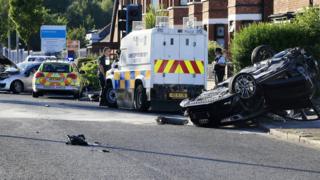 Four people are in hospital - one in a critical condition - following a crash involving six cars, one of which was stolen, in north Belfast.
It happened on the Crumlin Road near the Ardoyne shops at about 18:55 BST on Tuesday.
Police said the stolen car was a black Audi A1, reported stolen from Thirlmere Gardens on Sunday morning.
The Police Ombudsman is investigating the circumstances leading up to the collision.
The Crumlin Road was closed overnight, but has now been reopened.
'Carnage'
Five people and a child were taken to the Royal Victoria Hospital (RVH) and another was treated at the Mater Hospital shortly after the incident.
Nigel Riddell, from Northern Ireland Ambulance Service, told the BBC that one of the cars contained a number of young people.
"There was a wide range of injuries," said Mr Riddell.
"Some people emerged relatively unscathed but at least one of the patients has suffered very critical injuries and was very rapidly transported to the RVH."
A child was taken to the Royal Hospital for Sick Children but has since been discharged.
A Belfast Trust spokeswoman said of the five casualties taken to the RVH, one man was critical, two men and a woman were stable and another has been discharged.
A man taken to the Mater Hospital is in a stable condition.
One car overturned in the collision, and part of the road has been closed.
SDLP councillor Paul McCusker said the crash scene was "carnage".
Appeal
Police officers investigating the crash are appealing for witnesses.
Superintendent Muir Clark said the car - registration number GD18SJU - was being driven "erratically" around north Belfast on Tuesday evening.
"Specially trained police officers subsequently located the stolen car," he added.
"The car failed to stop, made off and police initiated a pursuit. The car crashed a short time later.
"As is normal practice, The Police Ombudsman's Office have been notified and are currently investigating the circumstances leading up to the collision therefore it would be inappropriate to comment further pending the outcome of that investigation."