easyHotel may not be able to open because of room size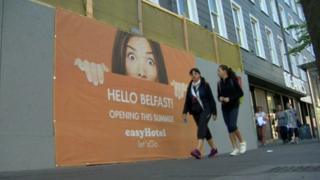 A new £5m hotel in Belfast may not be certified to open because its rooms are too small.
The easyHotel on Howard Street is part of a UK chain of budget accommodation and involved the conversion of offices into 81 double and family bedrooms.
However, BBC News understands a "sizeable" number of its rooms are below the 13 sq m stipulated in Northern Ireland legislation.
It is due to open next month, but its certification is presently in doubt.
All accommodation must be certified by Tourism Northern Ireland (TNI), with requirements set out in the Categories of Tourist Establishment (Statutory Criteria) Regulations (Northern Ireland) 1992.
Operating without official approval is punishable by a fine of up to £2,500 or imprisonment of up to six months.
Issues relating to room size, some of which measure nine square metres, have been flagged up at board level within TNI.
It told BBC News: "Tourism NI conducts the certification process in strict confidence with the accommodation provider.
"Developers and operators are referred to the legislation as soon as plans are submitted to Tourism NI, including any requirements outlined within the legislation relating to room size."
'Super-budget'
The developers behind easyHotel Belfast said they were "working closely" with TNI on the certification process.
The hotel is marketed as "super-budget" accommodation and it is part of a chain which has expanded in the UK and abroad using a franchise model.
It was launched in 2005 by Stelios Haji-Ioannou, the man behind easyJet.
The Department for the Economy is aware of the problem and said the issue was "under consideration."
The BBC understands legal advice is being taken by some of those involved.
One tourism official told BBC News: "The regulations need to be looked at but can changing the law be done without a minister or an assembly?"
The last time regulations for hotels were updated was 2009, and the only change was the removal of a floor to ceiling height specification.
It is understood easyHotel believes an exemption to certification could be permissible if TNI and the department agreed.
Opening a reduced number of rooms, or making them singles, where minimum size is seven sq m, is not believed to be considered an economically-viable option.