Suspended term for Lurgan false rape claim woman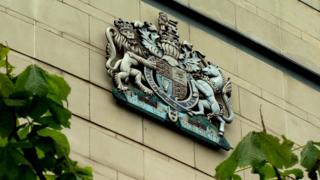 A wheelchair-using woman who falsely claimed she was raped "for attention-seeking purposes" has been given a suspended sentence.
Gail Chambers, 51, from Russell Drive in Lurgan, was given a three-year sentence suspended for three years.
She concocted a "very lurid and graphic account" that she was raped in her Lurgan home in October 2015.
The man she accused was arrested, had intimate samples taken and was then subjected to a police interview.
Newry Crown Court was told it was the second time Chambers had perverted the course of justice by making a false rape claim.
After providing an alibi which proved he was shopping in Belfast at the time Chambers claimed he was raping her, the man was released.
However, the court was told the incident has had a lasting affect on him.
Judge Melody McReynolds said that while cases such as this had an impact on already stretched resources and real victims of sexual crimes, she was taking into consideration Chambers mental and physical difficulties.
Chambers was born with cerebral palsy.
In June 2017, after the man's alibi was verified, Chambers was interviewed by police but refused to answer any questions.
She subsequently pleaded guilty to a single charge of perverting the course of justice by making a false report that she had been raped.
In a victim impact statement, the man said when he arrested "I felt my word had collapsed around me."
He said the incident has affected his social life as he no longer trusts people. He also said "the only time I feel safe is on my own company. I feel suicidal and have considered taking tablets."
Claimed she had been stabbed
A prosecutor said Chambers' criminal record involved similar offences, including a prior false rape claim made in July 2012, for which she received a suspended sentence in October 2013.
Other offences mainly involved wasting police time, such as claiming she had been stabbed, or was being threatened via texts, when she was the one sending herself the messages from a second phone.
A defence barrister said Chambers had acknowledged what she did was "disgusting".
He said it took police almost two years to interview Chambers after the initial allegation was made and spoke of his client's low IQ, "significant" mental impairment and her obvious physical disability.
Passing sentence, Judge McReynolds spoke of the impact Chambers' false claim has had on the man accused of raping her, and said: "Clearly this person suffered real shame and embarrassment because, quite frankly, mud sticks, to the extent that he had suicidal thoughts."
Judge McReynolds also spoke of "genuine survivors of sexual violence whose cries of help are undermined by people like you."
The judge however agreed that Chambers had not came to police attention in the last three years and that her life was more settled now.
Handing her a suspended sentence, Judge McReynolds told Chambers that if she offends within the next three years, she could face jail.