NI paper review: Water woes and 'Sunday assault'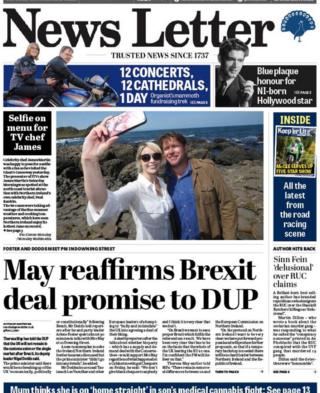 It's feeling hot hot hot out there, and it's looking like the good weather is set to stay.
However, it's not all good news as the papers report on Tuesday.
According to the Belfast Telegraph, demand for water is 25% higher than normal.
A hosepipe ban which was brought into force last week is set to remain in place as rain is not expected in Northern Ireland for at least the next week.
NI Water says it has already received reports that people are breaching the rules through telephone and social media.
Meanwhile, the Daily Mirror reports that bus drivers are feeling the heat while transporting pupils with special needs.
The paper says one education authority worker posted online that of the 70 buses operating in Belfast, only five have air conditioning.
"I know a lot of parents are upset," an employee told the Mirror.
"These are kids that have serious needs and some maybe aren't able to even say they are too warm."
The education authority told the paper some of the older vehicles do not have air conditioning, however they advised drivers to take "additional steps such as parking in shaded areas where possible".
Civil service audit
Away from the hot weather, politics dominates the front page of the Irish News.
"'Deep concern' over lack of notes at Stormont meetings," reads the headline.
It reports that a watchdog is to audit Northern Ireland's Civil Service following evidence given by the head of the public body to the Renewable Heating Incentive (RHI) inquiry.
In March, David Sterling told the inquiry that both the DUP and Sinn Fein were "sensitive to criticism" and it was "safer" not to record notes which might be released through FOI requests.
The Information Commissioner's Office (ICO) has now said it will conduct an audit to ensure the civil service is complying with FOI legislation.
Blue plaque for silver-screen actor
Hollywood actor Stephen Boyd will be commemorated with a new blue plaque close to his birthplace, reports the News Letter.
The installation will be revealed on Wednesday in Newtownabbey.
The actor - real name William Millar - was born on the Doagh Road in 1931, and went on to play roles alongside stars including Zsa Zsa Gabor and Anna Neagle.
His biggest hit was the 1959 classic, Ben Hur.
The blue plaque is being funded by the Abbey Historical Society.
'Relentless selfish assault'
The Belfast Telegraph reports that DUP MLA Christopher Stalford has faced criticism from his own church minister for attending a GAA match last weekend.
Mr Stalford attended the Ulster GAA Final with his party leader Arlene Foster.
Martyr's Memorial minister Rev Ian Brown issued a statement last week in which he described the "retrograde steps with respect to the sanctity of the Lord's Day" including "the attendance of high level politicians at a GAA final on Sunday".
The Free Presbyterian also raised concerns about a recent decision to move the Belfast Marathon from a Monday to Sunday.
"If it is the genuine desire of politicians in our country to secure the brightest of futures for the citizens of our beautiful country, then showing appropriate respect for God's Day instead of targeting it for relentless selfish assault would be a good place to begin," said Rev Brown.
The paper said it was unable to contact Mr Stalford for comment.
Relatives of those murdered in the 1974 Birmingham pub bomb attacks said the lack of legacy arrangements have caused them "perpetual trauma", reports the Irish News.
This week, survivors are to meet with Sinn Fein and the DUP in Belfast.
The paper reports that the trip is linked to ongoing legacy consultation with families who feel there are issues in the proposals around provisions for those injured, or whose loved ones were killed, outside of Northern Ireland.
Julie Hambleton, whose sister Maxine was murdered in the Birmingham attack said: "We will engage in discussions in Belfast in the spirit of respect and with a hope that we may get some measure of assistance in our quest for a human rights compliant legal process into how our loved ones died."