Fire hydrant vandalism not 'harmless fun' says NI Water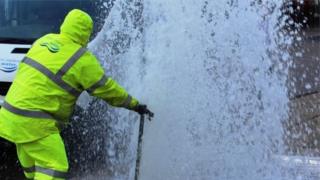 NI Water has appealed for help from communities to end a spate of vandalism on fire hydrants.
Since Friday the company has dealt with 18 incidents - in Belfast, Newcastle, Draperstown and Magherafelt.
It said it needed help to stop the vandalism "before the unthinkable scenario occurs where a fire breaks out and there is no water for the NI Fire and Rescue Service to deal with it".
The company said the vandalism was not "harmless fun".
"The reality is, that as they play in the water, homes and businesses are suffering low water pressure or no water at all".
NI Water has said that demand for water is 25% higher than usual which is down from 30% over the weekend.
Hosepipe ban
As a result of the increased demand and sunny weather, a hosepipe ban was imposed at 18:00 BST on Friday.
The last hosepipe ban in Northern Ireland was 23 years ago in 1995.
The ban applies to domestic usage only.
"We do not want the ban to continue any longer than is necessary, however, the ban will not be lifted until we are confident there is enough treated water to meet the required water demands," NI Water's chief executive officer, Sara Venning, added.
"Demand remains high, particularly during peak times, so we are still urging people to conserve water.
"We continue to maximise our water production and I am grateful to our dedicated workforce who are working continuously day and night to ensure we keep customers in supply."
NI Water has appealed to anyone who has witnessed vandalism of hydrants to contact the PSNI or its Waterline on 03457 440088.
---
June Weather Statistics
The average mean temperature for June was 19.9C, knocking June 1940 from the top spot when a high of 19.6C was recorded.
The month also comes in as fifth sunniest on record, with 238 hours of sunshine.
---
Customers in some areas, including parts of Lurgan and Coalisland, have already experienced loss of pressure and intermittent supply failures.
Temperatures peaked at 30C on Friday.
NI Water has asked people to:
Take shorter showers
Turn off the tap when brushing teeth
Keep a jug of water in the fridge
Fill the kettle with only as much water as you need
Be "water wise" around peak times between 07:00 - 09:00 and 17:00 - 20:00
In the Republic of Ireland, Irish Water has announced a ban on the use of hosepipes in the greater Dublin area from 2 July.
Irish Water said the ban will be in place until 31 July but the situation will be kept under review.
It added that it would "take many weeks and even months for raw water levels to be restored in rivers, lakes and boreholes and for treated water levels to be restored in its storage reservoirs".