NI Heatwave is posing challenges for some farmers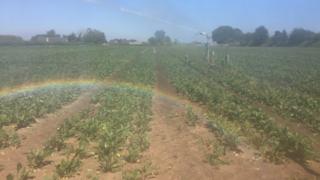 A County Down farmer has said he risks losing crops if the current dry spell continues into next week.
Roy Lyttle operates a farm near Newtownards and says he can only access water for 10-15% of his crops.
He grows a range of seasonal vegetables such as leeks, spring onions, parsnips and carrots.
The Ulster Farmers Union (UFU) said during the heatwave animal welfare and survival of produce are "key concerns" for its members.
UFU president Ivor Ferguson said farmers "are resilient and resourceful" and that the union will be "keeping a close eye on the situation".
Many farmers in Northern Ireland rely on rain to water their land and do not have irrigation systems in place to cope with long periods of dry weather.
Mr Lyttle has been farming at the edge of Strangford Lough for approximately 30 years.
Some of his fields are four or five miles apart, making irrigation difficult.
The demand for salad vegetables, such as spring onions, has almost doubled in recent weeks due to the sunny weather, according to Mr Lyttle.
"When we sit down in January to plan out our years growing we sow a certain amount, two or three acres of spring onion for every week, but we're going through them very, very quickly."
Mt Lyttle estimates that the summer crops will grow for another week before they stall due to a lack of moisture in the soil.
Winter crops such as parsley and herb celery that have been planted in recent weeks, will not grow without rain.
This means there is a risk they will not be ready until next spring when demand for autumn vegetables drops.
Mr Lyttle said: "At the moment we are irrigating crops that we want to sell in the next two or three weeks.
"It's a worrying thing because we have some crops that have just been sown and they won't grow until the rain comes.
"If the rain doesn't come until mid-July then these crops will be too late to make it in time for winter," Mr Lyttle added.
The farmer has been able to access water for a small portion of his crop, but says it's "just not physically possible" to cover his entire 150 acre plot.
"We have some crops at another farm in Comber and we have been able to access a disused bore hole which has excellent water.
"It takes 23,000 gallons to make an inch of rainfall on one acre, if you were to multiply that you would be pumping day and night to do 15 or 20 acres."
He says the lower yield and added costs could be reflected in the cost of produce once it reaches supermarket shelves.