NI hotels set room records in 'outstanding' 2017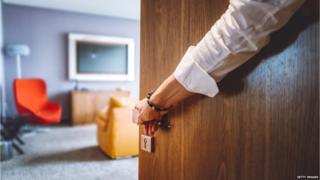 Northern Ireland hotels had an "outstanding" 2017 with a record 2.3m rooms sold, according to a report.
Occupancy hit 77% and the average room rate rose 10% to £90.48 a night.
Tourism is booming in Northern Ireland, with the surge linked to the post-EU referendum fall in sterling making it better value for many visitors.
ASM Chartered Accountants, who analyse the sector each year, said it was "reassuring" a modest recovery in the pound has not dampened hotel demand.
It described Londonderry as "the star of the show" in 2017, noting the "improved profitability" of its hotel sector.
'Cost pressures'
Profitability of hotels in Belfast "remained static year on year because of cost pressures."
With new hotels adding about 1,000 rooms in the city, the report said there is concern occupancy will "soften" this year and next.
"It may be the case that hotels located on the periphery of Belfast are more affected than those in the the city centre," said ASM's director of consulting, Michael Williamson.
"Perhaps the bigger challenge facing the industry is not the arrival of new supply, but the availability of well-trained staff."
Total revenue per room was £66,206 - a rise of 43% in two years.