Coagh man's drug-driving sentence increased after appeal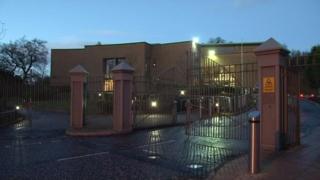 A Tyrone man who appealed a prison sentence given to him after he crashed his car while unfit due to drugs has been given an extra month in jail.
Anthony Lawn, 44, of Bridgend, Coagh, was attempting to have a six month prison sentence suspended or replaced by a probation order.
But a judge at Dungannon County Court said he was appalled by the circumstances of the incident.
He said he had a duty to protect road users.
Police discovered Lawn standing upright in his car as it lay upturned on the Cloghog Road in Cookstown, County Tyrone, on 15 December 2017.
As he was helped out, a strong smell of cannabis was noted and he claimed to have no recollection of what had occurred.
A search of the car recovered 4.6g of the drug.
Lawn provided a blood sample which was sent for analysis. A "cocktail of drugs" was found to be present, including cocaine, Prozac, alprazolam diazepam, cannabis and Benzocaine.
In June at Dungannon County Court he admitted being unfit to drive and possessing cannabis. The offences put him in breach of a suspended sentence for previous offending.
Lawn was jailed for six months, which included the activated suspended sentence. He was also banned from driving for five years.
Lawn immediately mounted an appeal at the same court before Judge Stephen Fowler,
'Society will not accept it'
A defence barrister said his client struggles with alcohol and drugs issues, which he has tried to address. He said short prison sentences did not work.
But Judge Fowler said: "The high number drink and drug driving on roads is atrocious. In this case the defendant was driving having consumed a cocktail of drugs.
"The message has to be put across in this division - it will not be tolerated. Getting behind the wheel drunk or drugged has consequences.
"Society will not accept it. Road users must be protected and I intend to do this."
The appeal was dismissed and the judge added a further month onto Lawn's prison term.