Essigny-le-Grand memorial marks Irish soldiers' sacrifice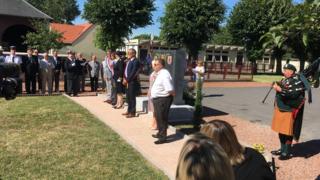 A new memorial to soldiers from the island of Ireland has been unveiled in a village in the north of France.
Men from the 36th (Ulster) Division and the 16th (Irish) Division fell fighting around the village of Essigny-le-Grand in March 1918.
Northern Ireland politicians, Somme Association representatives and French villagers unveiled the memorial on Monday.
It follows a weekend of similar World War One ceremonies in nearby villages.
The Essigny-le-Grand community got together and decided to place the memorial in the village because there was nothing to mark the sacrifice of the Irish soldiers who died there a century ago.
Wreaths were laid at the stone memorial by local French officials, mayors from councils across Northern Ireland and representatives of the British and Irish armies.
Most poignantly, children from a nearby school placed paper poppies and shamrocks they had made in their classrooms at the memorial.
The deputy mayor of the village, Thérèse Martin Barjavel, said it was important for them that the Irishmen who died fighting there a century ago should not be forgotten by current and future generations through the passage of time.
On Sunday there were commemoration ceremonies involving the 36th Ulster and 16th Irish divisions at Thiepval and Guillemont to mark the 102nd anniversary of the first day of the Battle of the Somme.
Thousands of Irish men fought in the British Army in World War One, when the whole island of Ireland was still part of the United Kingdom.