Scarlett O'Neill: 'Her story had to be told' says mum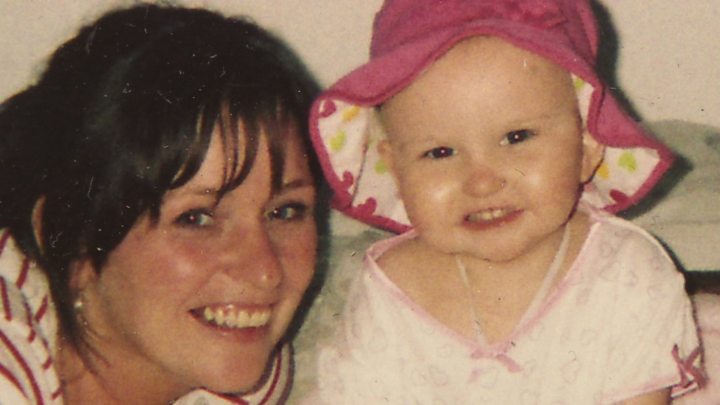 The mother of a two-year-girl who died within months of undergoing liver surgery at a Belfast hospital has said she had to make her story known.
Scarlett O'Neill had undergone a liver biopsy at the Royal Hospital for Sick Children in May 2011.
She died in October that year after infections were discovered as she prepared for a liver transplant.
Belfast Trust has offered deepest sympathies to Scarlett's family.
Scarlett's mother, Carol O'Neill, from Twinbrook, west Belfast, sued the Belfast Health and Social Care Trust.
The medical negligence lawsuit was settled at the High Court on Friday and Ms O'Neill was awarded £45,000 damages.
"As a family we always wanted the story out, because people need to know," Ms O'Neill said.
"I want people to know that there are other options out there and when they do take their children [to hospital] make sure everything is explained to them properly, because it was not done with us."
Scarlett had been sick for a number of weeks before being admitted to the Royal Belfast Hospital for Sick Children and diagnosed with a tumour on her liver.
Ms O'Neill claims that prior to consenting to the biopsy procedure she was not told any internal bleeding could not be controlled in Belfast.
Liver transplant list
She said her daughter had to be airlifted by the RAF to Birmingham Children's Hospital when complications arose, describing the care she received there as "excellent".
Within weeks the little girl had recovered sufficiently to start chemotherapy, but further issues allegedly developed following her transfer back to the Royal.
It was claimed that her wounds were not properly treated, causing infection and swelling to the stomach.
Scarlett, who had been placed on a liver transplant list, died in October 2011 after returning to Birmingham for the scheduled surgery.
"The thing that I always say - and I believe - if my child had have had that biopsy carried out in Birmingham to begin with, she would be here today, because Birmingham have the expertise, they know how to stop a bleed.
"When a bleed happens you need to act immediately, they know, they have the proper facilities.
Survive the night
"Had we known this, she would never have had the biopsy in the Royal in the first place, but we weren't told any of this information."
Ms O'Neill said the night of the biopsy a doctor from the Royal Belfast Hospital for Sick Children told her and her partner that they did not know how to stop the bleed and that they should tell their family that Scarlett would pass away that night.
She said it was only when Scarlett survived the night that the doctor contacted the Birmingham hospital.
"Even Birmingham questioned why he waited so long to contact them, because he didn't contact them until the following day."
Ms O'Neill said they owed it to Scarlett and to other parents to take the case against the trust.
'Such a fighter'
"We had to do it for Scarlett because she was such a fighter, so we had to have fight in us to fight for her and for any other wee children out there and their parents.
"We don't want anyone sitting how we're sitting today, because no matter how much time goes by it doesn't matter, it always just feels like it was yesterday."
BBC News NI contacted the Belfast Trust for a statement. It did not want to say anything further, except that it offered its deepest sympathies to Scarlett's family