Hosepipe ban and a heroic groom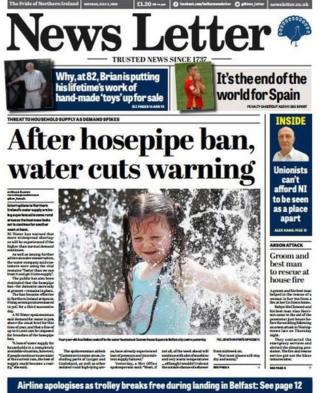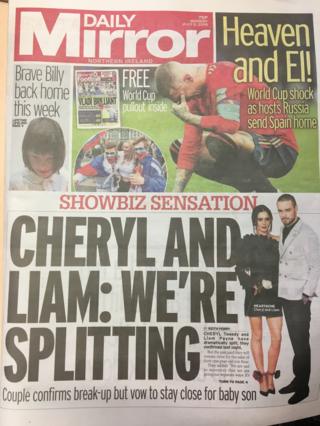 Photographs of people making the most of the summer weather dominate Northern Ireland's papers on Monday.
However, while the good weather has been great fun for some there are warnings of water shortages in rural areas.
The News Letter reports that there could be interruptions to water supply if the higher demand for water continues.
It said customers were using water "faster than we can treat it".
A hosepipe ban for domestic use, which was introduced on Friday, remains in place.
The Belfast Telegraph reports that the heat is causing concern for farmers.
Ulster Farmer's Union (UFU) President Ivor Ferguson told the paper: "Even a temporary shortage would have a devastating effect on animal welfare."
Bonfire concerns
The Irish News has spoken to a woman living close to a controversial bonfire in east Belfast who claims it has been built "far too close to people's houses".
The woman told the paper she was worried her own house would be damaged when the bonfire is lit on 11 July.
In May, loyalists agreed to move the bonfire from Ravenscroft Avenue car park to Bloomfield Walkway.
"I could come out and voice my opinion and speak my mind, but I couldn't live there anymore," the woman told the paper.
"I understand people want to do it, but surely there's somewhere they can have it that is away from people's properties."
Groom and best man save elderly woman
A County Down groom has been praised after saving a pensioner from a burning house, just hours before his wedding ceremony.
Robyn McClimond and his best man Alan Harrison told the News Letter they were on their way home from a pre-wedding event with friends when they spotted the burning house.
They stopped the car and raised the alarm with neighbours who told them an elderly woman lived in the house.
The men found a ladder and climbed up to the woman's bedroom window.
"I couldn't get her out of the window, so I just tried to comfort her and talk her through it until the fire service arrived," said Alan.
Just a few hours later Robyn made it to the church on time for his wedding ceremony.
Change in party approach
The former leader of the Alliance party has claimed that it is "no longer building bridges," according to the Belfast Telegraph.
Lord Alderdice told the paper that when he led the party it saw itself as "a bridge" between communities.
He added that the party tried "to help each side listen to each other and understand each other and build a society that would work for all".
However, he told the paper that had now "changed" and that they are a "third element in the community", which describes themselves as "progressive".
"They're not actually as devoted to the proposition that they are there to bring the two sides together," said Lord Alderdice.
Medicinal cannabis break through
Twelve-year-old Billy Caldwell is expected to be granted a lifetime licence for medicinal cannabis issued under new government guidelines, according the the Daily Mirror.
The paper claims the move will enable Billy, who suffers from epilepsy, to return to Northern Ireland within a week.
His mum, Charlotte Caldwell, said she had received an email which stated the paediatric neurology team at the Royal Belfast Hospital for Sick Children had started an application process for the drug.
"This is what we have been waiting for," Ms Caldwell told the paper.
"This is what every parent of a child who believes they need medicinal cannabis has been waiting for."