Heatwave leads to increased demand for water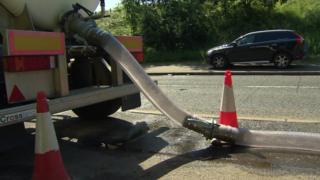 The continuing heatwave has resulted in a 30% increase in demand for water in Northern Ireland.
That is according to NI Water which imposed a hosepipe ban at 18:00 BST on Friday.
On Sunday, the company said it was continuing to appeal for people to limit their water use.
Customers in some areas, including parts of Lurgan and Coalisland, have already experienced loss of pressure and intermittent supply failures.
Temperatures peaked at 30C on Friday.
---
June Weather Statistics
The average mean temperature for June was 19.9C, knocking June 1940 from the top spot when a high of 19.6C was recorded.
The month also comes in as fifth sunniest on record, with 238 hours of sunshine.
---
NI Water's CEO, Sara Venning, said while she was thankful to those customers who were abiding by the ban, demand remains "much higher than normal".
She said the company was "struggling to get water around the system quickly enough".
"By helping us, you are in fact helping yourself, as the ultimate penalty for using water unnecessarily is not a fine, it is the heightened risk of widespread supply interruptions."
She said customers should use tap water for essentials, like drinking, cooking and washing.
NI Water says it is pumping out water to its distribution network as fast as possible, but demand is at an all-time high, with people using approximately 200 litres per day each, compared to the normal 153 litres.
It said customers were using water "faster than we can treat it and get it into supply".
"We would hope that people will voluntarily work with us to reduce their water usage over the coming days.
"A loss of water supply for households is a completely avoidable situation, however, if people continue to use water at the current rate, the loss of supply could become a reality."
NI Water has asked people to:
Take shorter showers
Turn off the tap when brushing teeth
Keep a jug of water in the fridge
Fill the kettle with only as much water as you need
Be "water wise" around peak times between 07:00 - 09:00 and 17:00 - 20:00
The last hosepipe ban in Northern Ireland was 23 years ago in 1995.
The ban applies to domestic usage only.
In the Republic of Ireland, Irish Water has announced a ban on the use of hosepipes in the greater Dublin area from 2 July.
Irish Water said the ban will be in place until 31 July but the situation will be kept under review.