MPs need to be 'more transparent' says watchdog head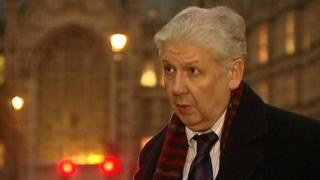 MPs and Westminster candidates need to be more open about second jobs and other income, the head of a parliamentary watchdog has said.
Lord Bew is Chairman of the Committee on Standards in Public Life (CSPL) and a former advisor to David Trimble.
Speaking on The Westminster Hour, he said some recent cases had raised public concern about whether some MPs were carrying out their primary role.
The CSPL will publish a report on outside interests later this week.
Lord Bew, a history professor at Queen's University in Belfast, said: "The fundamental job of an MP is to actually be an MP. That is the defining point, to carry out the duties of being an MP.
'Explosion of interest'
"Everybody will remember the intense media and public response to the former Chancellor George Osborne's time-consuming and well-rewarded outside interests.
"That's a simple matter of fact that there was an explosion of public interest and relatively negative comment."
Calling for greater transparency, Lord Bew added: "I think this is an area which does have to be revisited because transparency does act as a deterrent to bad behaviour.
"It is the Committee's long-held view that candidates should make clear to the electorate during an election campaign if they intend to carry on work in a certain area outside Parliament."
He said the public had a "nuanced view" and accepted that some MPs would continue to work in roles such as doctors, nurses and armed forces reservists.
'Slightly unfair'
But he said holding directorships of companies or working as consultants raised "a genuine issue about undue influence".
Lord Bew said he understood why MPs might feel "prickly" about calls for more transparency.
But he also had a warning: "The public thinks that you have chosen this life - you weren't forced into it - and they expect things from you that actually they don't expect from public service in a whole number of other areas of life.
"This is slightly unfair but this is the reality."