Jeremy Corbyn 'not interested' in NI - Baroness May Blood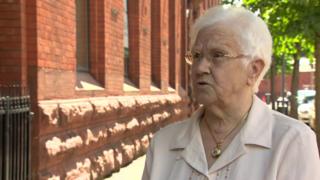 Labour leader Jeremy Corbyn is not interested in Northern Ireland, a Labour peer from Belfast has said.
Baroness May Blood, who is also president of the Labour Party in NI, said she still believed Mr Corbyn was helping to destroy Labour.
She made the comments on BBC Radio Ulster's Sunday News programme.
The 80-year-old peer is stepping down from the House of Lords after being appointed 19 years ago.
'Not good news'
Baroness Blood said Mr Corbyn is "not good news" for Northern Ireland and criticised him for not meeting with Labour NI when he visited in May.
She also called on Mr Corbyn to change Labour's ban on members in Northern Ireland standing in elections.
People in Northern Ireland have been allowed to join the Labour Party since 2003 but cannot stand as candidates.
A review into that matter is in its final stages and an outcome is expected in the autumn at Labour's annual conference.
'Bread and butter'
Baroness Blood acknowledged the current Labour leader had done more to bring various splits within the party back together.
"When I went into the House of Lords, in the Labour Party it was all the Tony Blair or the Gordon Brown camp," she said.
"I always believed Labour should be a whole, in that fact Corbyn has brought them together, but it's ... mostly young people.
"When I was raised, Labour was bread and butter politics in my household - but Jeremy Corbyn doesn't talk that language to me."
Baroness Blood was the first woman from Northern Ireland to be given a peerage in 1999.
She said she found the House of Lords a "strange" place when she first attended.
"In the first year, I was a bit lonely, but then I decided I had to go in and make it work for the people of Northern Ireland," she said.
"I made myself a promise that if I survived it, I would stay until I was 80."
Baroness Blood also said on Sunday that there was discussion "about setting up a People's Assembly" and that she had been "asked to go on the advisory board for that".
She said a People's Assembly could be more important than ever given the stalemate at Stormont.
"There is very valuable community work being done in Northern Ireland that is being stifled with no funds, because there is no-one up there [at Stormont] to sign money off," she told BBC Newsline.
"There's money being granted, but it can't be given [out] because it can't be signed off by anybody. That's not right."