Somme commemoration taking place at Thiepval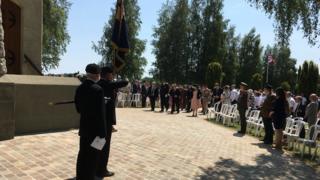 Hundreds of people - many of them from both sides of the Irish border- have gathered in northern France to remember those killed the Battle of the Somme.
An Irish army officer was joined by an officer from the Royal Irish Regiment to lay tributes at the Thiepval memorial.
It was during a Royal British Legion service on Sunday morning.
Among those taking part in the ceremony was Northern Ireland Secretary Karen Bradley.
Members of the Orange Order were also there to remember Orangemen who went into battle wearing their colorettes, never to return.
A number of Northern Ireland councillors have also travelled over for this and similar ceremonies at the Ulster Tower and at the village of Guillemont.
The tower is dedicated to the soldiers of the 36th Ulster division while a Celtic cross in Guillemont is in memory of men from the 16th Irish division who died fighting in the fields around the village.
Mrs Bradley said people from unionist and nationalist traditions have been brought together, united in remembrance of their forefathers who died fighting side-by-side against the common foe.
The people of France are also paying their respects.
Local mayors from the Somme area are taking part in the services as are a number of local villagers.
Carol Walker from the Somme Association said: "People realise just the great sacrifice that there was and people realise that we need to fight for these guys that fought over here for our freedom that we have today.
"Freedom is really important to us and hopefully that's what we learnt from this."
The opening day of the Somme - 1 July 1916 - remains the bloodiest in the British Army's history.
A total of 19,240 British troops were killed within 24 hours, and almost a tenth of those who died that first day were from the 36th Ulster Division.