GAA and Orange Order brought together in cultural visit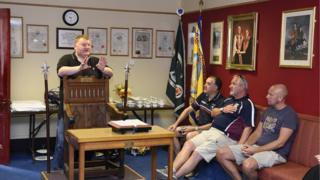 It was a cultural visit, with a twist.
At Ballynafeigh Orange Hall in south Belfast, two sections of the community came together to share their cultures.
On Saturday, the Ballynafeigh Cultural and Heritage Society gave members of the local Gaelic Athletic Association club (GAA), Bredagh, a tour of the Orange hall.
It's fair to say the two groups don't have a lot in common - Ballynafeigh's members being drawn from the Protestant community and GAA members largely being from a Catholic community background.
The guests were told about the origins and history of the Orange Order - the 'fraternal' organisation, named for William of Orange, the Protestant Dutchman who seized the thrones of Catholic King James II back in the 'Glorious Revolution' of 1688.
The Order still sees itself as a unifying force among Protestants and is a staunch defender of all things British.
In contrast, the GAA, an all-Ireland sporting and cultural body, promotes Gaelic games such as Hurling, Football as well as the Irish language. It describes itself as being part of the Irish consciousness, playing an influential role in Irish society.
The tour gesture was reciprocated - Bredagh GAA invited members of the Ballynafeigh society to Feile Peile na nÓg, a youth Gaelic football tournament at Cherryvale playing fields.
Among those at Ballynafeigh Orange Hall for the visit was DUP MLA Christopher Stalford, who last Sunday accompanied DUP leader Arlene Foster to a GAA match, the Ulster Football Final.
Two men at the heart of each institution came up with the idea - Malcolm McFarlane, the chair of Bredagh GAC, and Stephen Biggerstaff, the chair of the Ballynafeigh Cultural and Heritage Centre.
"Malcolm came to me there about two weeks ago and he said about the tournament and could he organise a visit to Ballynafeigh Orange Hall and I said not a problem," said Stephen.
"I contacted Noel Liggett, the district master and Noel accommodated him without a second thought."
The visit is particularly significant for having taken place in Ballynafeigh.
The area used to be predominantly Protestant and voted unionist but has become more mixed: the most recent census indicated that 57% of people who live there are from a Catholic community background.
As the neighbourhood has become increasingly diverse, there have been some tensions, including an ongoing row over the flying of flags.
However, there are hopes a recently instituted flags agreement could point a new way forward in this part of south Belfast.
'Move forward'
For Stephen, Saturday's visit was very successful.
"I think maybe people came into the hall this morning and they're leaving with a different attitude towards our culture.
"You know it's a very small area, Ballynafeigh - people live together.
"So hopefully our neighbours will have seen a different side to our culture and hopefully everyone learns from things.
"Everyone has to move forward and this is the only way people can move forward by doing things like this and talking."
Meanwhile, the Feile Peile na nÓg, which is being hosted by Bredagh GAC, will feature 150 young people and teams from Dublin and Scotland.
So there was no better time, according to Malcolm McFarlane, for Bredagh GAC to visit Ballynafeigh Orange Hall.
"This is simply about two different cultures and groups on the Ormeau Road getting to understand each other's cultures," said Malcolm.
"At the end of the day, we are only custodians for the next generation of children coming through.
"It's important that we do the right thing. If we can help each other understand each other and improve where we live, it can't be a bad thing.
"That's why it's so important."
He added that the invitation from Ballynafeigh was very well received within the GAA club and it was an encouraging sign for the future.
Update 6 February January 2020: This article was amended to clarify that religious affiliation does not necessarily denote political affiliation.