South Eastern Regional College staff details at risk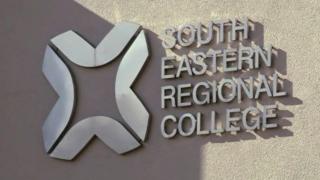 South Eastern Regional College (SERC) staff have been told their personal information may be at risk.
The potential data breach follows the hacking of an employee's email account.
SERC, which falls under the remit of the Department for the Economy, said it was working with the Information Commissioner's Office (ICO) to resolve the issue as quickly as possible.
The ICO said organisations have a "legal duty to ensure that people's personal data is processed securely".
A spokesperson for the Department for the Economy said SERC had informed them about the potential breach.
"SERC has also informed the PSNI and the Information Commissioners Office (ICO) of the potential breach," they added.
Cyber crime
A SERC spokesperson said they were "successful in identifying and isolating this breach within 30 minutes of receipt of the suspicious email".
"At this time, we have no evidence to suggest that data contained within the hacked email account has been exported to any third parties and we are further satisfied that there is no evidence that our information technology systems are compromised," they added.
Police said they were aware of the incident and their cyber crime centre was working with the college.