RHI inquiry: Moy Park 'got indirect benefit' from scheme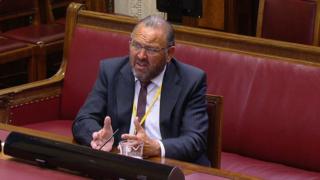 Poultry giant Moy Park got an "indirect benefit" from the RHI scheme, a public inquiry has been told.
It allowed a "significant gap" to emerge between what its suppliers were spending on heat and the fuel allowance it provided them.
And that meant it did not have to make up the difference straight away, to the advantage of the company.
The claim was put to senior executive David Mark on Friday by RHI inquiry counsel Donal Lunny.
Mr Lunny suggested the company had viewed the farmers' RHI payments as an income "safety net".
Mr Mark denied that and said Moy Park had tried to encourage "responsible" use of heat by their suppliers.
The inquiry spent much of the morning examining the difference between what poultry farmers were spending on biomass fuel and the Moy Park allowances for fuel.
It was calculated as part of a complex costs and pricing structure negotiated annually between poultry farmers and the company.
It examined a document Mr Mark had prepared on the issue.
It demonstrated a considerable difference between what he recorded as responsible usage and level of payments being approved by the company.
Inquiry chair Sir Patrick Coghlin said he did not "see any escape from the fact" that the lower figure had been picked "to benefit Moy Park".
The inquiry also heard that Moy Park encountered resistance from farmers when it tried to find out exactly how much heat they were using.
Mr Mark said he had collected some data, but had to stop when he was threatened with legal action.
He said farmers considered that their RHI payments were a private matter, not one for Moy Park.
He said this reluctance created some difficulty for the company as it tried to set its costs base for the meat price.
Before the switch to biomass Moy Park had supplied all its farmers with liquid gas and had a much clearer idea of fuel use.
Rumours of abuse
The inquiry also heard that Moy Park was aware of rumours of abuse in the RHI scheme.
And it identified almost from the outset the potential for the tariff structure to generously reward participants.
A company representative told the inquiry that 943 of its chicken houses - 62% of the total - are now heated using biomass boilers accredited to the scheme.
Mr Mark said that between 2010 and 2018 Moy Park had sought to expand its business from four million to six million birds a week.
That has now been achieved.
He said from the beginning, they saw the benefits of RHI and "actively encouraged" their supplying farmers to adopt it.
The inquiry also heard that from 2013 Moy Park insisted that all new houses were heated using indirect hot water heating systems because it was better for the birds.
Most of them used biomass boilers.
He said company modelling indicated that a £30,000 boiler on the scheme would have a payback of three years - but accepted that was a conservative estimate.
Mr Mark said the banks looked favourably on biomass investment.
A £620,000 double poultry house loan would take 10 years to pay back, whereas the £60,000 boiler loan would be paid back in two years.
At one point that prompted Mr Mark to include a line in an email to colleagues that there was "more money in burning pellets than raising chickens".
He said he meant there was a much better rate of return on the boiler investment for farmers.
Mr Mark said he had been aware from October 2014 of allegations of abuse in the scheme.
He said Moy Park had always tried to encourage "responsible" use of heat by their growers who had a legitimate high heat demand.
Improved bird performance
Later after sustained questioning the company's former chief executive Janet McCollum eventually accepted that the introduction of the boilers and an associated hot water heating system had led to improved bird performance.
She was asked whether she had ever been told that RHI was "helping the bottom line" of the company.
She said she had not been told that a discrepancy between the company's fuel allowances and farmers' fuel costs was benefiting Moy Park.
"That conversation did not take place," she said.
Earlier, Mr Mark was asked about his contacts with Arlene Foster's former SPAD (special adviser) Andrew Crawford in the summer of 2015.
The Moy Park executive had circulated a document he said he had received from a "contact in government" about civil servants plans to combat RHI abuse.
He told the inquiry he could not remember where he had got it.
But he was walked through email exchanges which appeared to show it had come from Mr Crawford.
Inquiry counsel Donal Lunny said it seemed to indicate that Mr Crawford was communicating with Moy Park about RHI in the summer of 2015, before tariff changes were announced and when there was a recognition by Moy Park of the advantage of getting farmers accredited to the scheme before lucrative payments were cut.
Mr Mark said he had met Mr Crawford at a poultry farm belonging to Mr Crawford's brother James at the end of July 2015 as part of a wider Moy Park event, but he had no recollection that they discussed RHI.
He said the talk was "just pleasantries".
Around the same time Mr Crawford told a fellow DUP SPAD Timothy Cairns that Mr Mark was the person to talk to in Moy Park about the uptake of RHI amongst its suppliers.
And it emerged that in 2017 that Moy Park had worked out the 20-year cost of its growers who were on RHI.
Mr Mark said company modelling indicated the 20-year cost for 768 boilers would be £500m.
The inquiry has now risen for the summer. It will return on 4 September.