Antrim boxing club wins the fight for education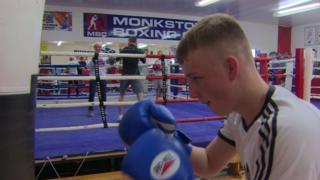 When it comes to education and the gender gap, it really is no contest.
Boys are outperformed by girls at GCSE and A-Level in Northern Ireland and fewer males go to university.
Now, researchers at Ulster University have embarked on a long-term study to find the best ways to raise boys' performance at school.
They have enlisted the help of a County Antrim boxing club - keeping teenage boys in education is a fight that the Monkstown club has been winning.
It works in partnership with the nearby Abbey Community College and provides a combination of boxing training and education to boys who are in danger of dropping out of school.
The Aspire programme works with small groups of boys who spend half their week in school and half in the club.
According to Paul Johnston, project manager at Monkstown boxing club, the Big Lottery-Funded programme is aimed at boys who are struggling to fit into mainstream education.
He said: "We find it works really well, particularly with young males who need a second chance at an early age.
"They'll do a number of subjects, both within the school and the boxing club.
"They'll have subject choices that they are very motivated by doing.
"They complete those in school and then do a Prince's Trust qualification with ourselves here, which is the equivalent of two 'B' grade GCSEs."
According to statistics for the project, the outcomes are impressive.
Attendance at school rose by 15% among the group of 12 boys who took part in 2016/17.
Those 12 boys were late for school just three times in 2016/17, compared with more than 300 times the previous year.
None were suspended from school in the year they were in the project, compared to a total of 38 previous suspensions for the group.
The boxing club's commitment to education had certainly helped 18-year-old Robbie Patterson.
He is about to embark on a career in construction as a result.
"I didn't want to be in school really, but if you come here Paul is happy to help you with anything," he said.
"That's what he's done for the boys he takes who don't want to be in school.
"He brings them here and gets them their education and it's good."
Researchers from the 'Taking Boys Seriously' study at Ulster University are looking at whether the partnership model in Monkstown can provide lessons about how to teach boys elsewhere.
The five-year study is focused especially on how to improve educational outcomes for boys from relatively disadvantaged areas.
Professor Brian Murphy from the university is leading the research team.
"Northern Ireland has some of the most socially deprived areas in the whole of western Europe," he said.
"But we have some really good clubs, like this boxing club, and we have some really good schools right in the middle of those areas and they are making a difference.
"What we want this research to do is to pick on what those schools are doing that works, then we'll evaluate that and disseminate it across the sector.
"This is about putting the boy at the centre - surrounded by the community, surrounded by the school, and surrounded by the university."