How meaningful is Arlene Foster's LGBT gesture?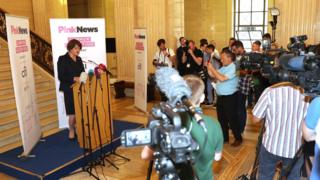 "I look at you as my neighbours or my fellow citizens," said Arlene Foster.
She could have delivered that line at the Ulster GAA Final in Clones where she was last Sunday.
But she kept it for an LGBT event organised by PinkNews at Stormont four days later.
Just rewind there for a moment.
The Ulster Final? An LGBT event? Is this really the leader of a party that rigidly opposes same-sex marriage and condemns GAA clubs which names grounds or competitions after IRA figures?
Yes and yes. So why the change, in tone, if not in substance?
And does it really mean anything?
Well, for a start, it is a big step for a DUP leader. Whether it should be or not is irrelevant - it just is.
The LGBT community listened politely to her speech but the applause was muted.
They will have heard nothing to indicate she intends shifting her party's opposition to same-sex marriage as demanded by Sinn Féin.
Though the fact she was there at all is a sign she knows the DUP brand has to change, somehow.
A new reality
In comparison the other four party leaders - Michelle O'Neill, Robin Swann, Colum Eastwood and Naomi Long received much warmer applause.
Especially those who spoke of reforming the petition of concern, the means by which the DUP has already prevented the law being changed.
On the other hand, Arlene Foster's appearance at this event may eventually turn out to be a sign that her party is coming to terms with a new reality.
Several times during the event she fanned herself and looked uncomfortably hot.
On one of the warmest evenings of the year she will not have been alone.
But now her critics will want her gestures followed by action. The heat is on Arlene Foster for the foreseeable future.