Heatwave continues to cause delay to NI railway network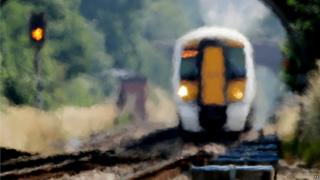 The hot weather is continuing to cause delays to Northern Ireland's trains.
Fears that railway tracks could buckle in the heat prompted Translink to introduce speed restrictions.
As the UK basks in the heatwave, the ground temperature is also increasing and Translink recorded a high of approximately 50C on Wednesday.
As a precaution they reduced the speed of trains on the network resulting in widespread delays.
On Thursday evening, Translink's head of rail operations, Richard Knox, said average delays were "probably somewhere in the region of five to 10 minutes on Portadown, Bangor, Larne line and maybe about 10 to 15 minutes on the Londonderry corridor".
He added: "Hopefully people can be patient - give us an extra five minutes and we'll get you all home.
"It is exceptional weather in Northern Ireland and I know we shouldn't complain about it, but it does make my job, I suppose, a little bit more taxing."
The company's infrastructure executive Clive Bradberry said delays caused by hot weather were unprecedented in his time working in Northern Ireland.
"I've been with Northern Ireland Railways for 15 years now, it's the first time we've had to put these type of restrictions on for hot weather. So it's definitely very exceptional," he said.
"Maybe a little bit more in the south east of England, Network Rail would suffer these kind of things maybe on a more annual basis, but for us, it's unknown in my time here."
The railway network in Northern Ireland is one long string of track rather than the old familiar jointed rails where you would hear the "clickity-clack" Mr Bradberry said.
When the temperatures rise the railway line wants to expand.
"It is like pushing on each end of a straw. Eventually the straw wants to move sideways and we don't want that to happen in our track," Mr Bradberry added.
When the rail temperature rises in Northern Ireland's normal climate, the weight of the sleeper and the stone compacted around the rail prevents it from buckling.
The reduced speeds are intended to lower the force exerted on the track reducing the risk of buckling.