Paper review: Donegal treasure, Copacabana or Castlederg?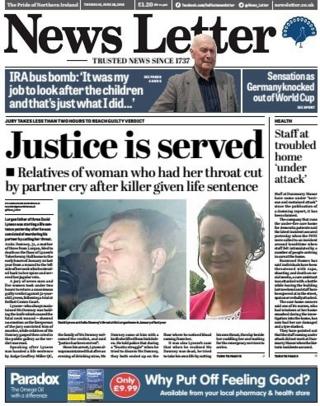 "Justice is served" - the conviction of a County Armagh man who murdered his fiancée by cutting her throat dominates the front pages.
Anita Downey, 51, a mother of three from Lurgan, bled to death on the floor of David Lyness's home in January 2017.
On Wednesday, 52-year-old Lyness, of Toberhewney Hall, was found guilty in a unanimous verdict.
Ms Downey's son Jamie said he was happy with the outcome and her emotional family hailed the "fantastic verdict," reports the Belfast Telegraph.
Digging for gold
In the Irish News, a County Donegal farmer got more than he bargained for on his day's work.
Norman Witherow was helping workmen dig a field in Convoy, on the Irish border, when what appeared to be a "gold hoard" from the Bronze age was unearthed.
Mr Witherow tells the paper at first the buried treasure lay his car for a while before a friend told him of its worth.
"This would be a valley where people settled and moved through to places like Beltany (Stone Circle) and Grianán (fort)," he says.
He gave the find to Donegal County Museum but it has now gone to the National Museum of Ireland in Dublin for further testing.
Maeve Sikora, the keeper of Irish Antiquities, says its too early to tell from what period it's from, but it is a "significant find".
'Nurse attacked'
The Belfast Telegraph reports that staff at a care home which was the subject of damning report have been issued "personal attack alarms".
An investigation into Dunmurry Manor by NI's Commissioner for Older People found a "horrific catalogue of inhuman and degrading treatment".
However, management claims that staff have received threats of "death, rape and shooting".
They also claim a nurse was attacked with a bottle while leaving the home.
Runwood Homes says police were called when staff felt intimidated after "a gang of people showing up at the premises in a car".
The paper says the PSNI did not respond when asked for comment.
Castlederg or Copacabana?
"At the Copacabana, the hottest spot north of Havana" - but it is?
The Daily Mirror reports that the hottest spot is actually Castlederg in County Tyrone, where at 29.6C on Wednesday, temperatures exceeded a paltry 26C in Rio De Janeiro in Brazil.
Its sunny front page rejoices in the unusually balmy temperatures in Northern Ireland.
And, the paper reports, sunshine is here to stay and temperatures are again expected to "kiss 30".
The case of an epileptic boy whose battle to legally use cannabis oil to reduce his seizures has made news far and wide.
Billy Caldwell, 12, from County Tyrone and his mother Charlotte have been campaigning to use the oil since discovering the effect it had on Billy's condition.
Now, reports The Irish News - medicinal cannabis prescriptions could soon be available.
An expert panel began accepting licences for the drug from senior doctors on Wednesday.
The paper says the Home Office announced the panel will make "swift" recommendations to ministers, who will then sign off on applications within two to four weeks.
Doctors will have to show there is an "exceptional clinical need" and no other medicine would be suitable for their patient.
They would also have to accept "full responsibility for risks and liability", the Home Office said.
Ms Caldwell says she is concerned for clinicians, due to references to them "having to take full responsibility for risk and liability".
Just keep swimming
A doctor from London has battled jellyfish from Donaghadee in County Down to Scotland, reports the News Letter.
He was of course swimming the North Channel. Nicholas Murch is the first successful solo swimmer to complete the challenge this year.
He tells the paper that it wasn't easy and he got stung twice.
"There are three tides when you approach Scotland, so you have to be quick you don't miss the landing point," he says.
"I got a bit bruised at that point," he adds.