Omagh rape victim calls for court system review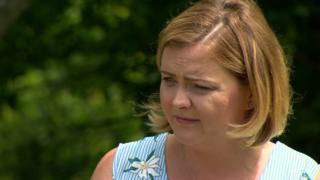 A Tyrone woman has called for urgent changes to how courts deal with rape cases.
Sabrina Barton was raped by a stranger who broke into her flat while she was working as a nurse in London.
The man was convicted by a jury but Mrs Barton believes reform to the system is long overdue.
The mother of two from Omagh waived her right to anonymity to speak to BBC News NI: "It's very challenging to come face-to-face with that person again.
"I think there are valid ways in which the system could be improved that would make it easier for witnesses."
'Everything was destroyed'
Speaking about the 2006 attack she said: "He subjected me to assault and threats to kill and false imprisonment and rape.
"I was frozen in shock. I just couldn't believe there were people in the world that treated other people like that."
Mrs Barton said the life she had before was completely destroyed that day.
"I couldn't function. It affected every aspect of my life," she said.
"Washing, dressing, talking, socialising my career, my sense of safety and stability, relationships everything.
"You know it was just like somebody pressed pause and the life that I knew was completely gone.
"In one fell swoop everything was destroyed."
Mrs Barton moved back to her parents' home in Omagh and tried to recover and prepare for the upcoming court case, which she said was almost too awful to comprehend.
"When you have a really traumatic experience or a near-death experience, something that you're really frightened of, you see everyone as having the capacity to hurt you in some way.
"Every situation you find yourself in you're constantly wary. You don't trust anyone you don't trust yourself you don't trust your environment."
The trial itself added further emotional trauma, although Ms Barton said she was spared news reports and social media speculation as her case was only reported on when the verdict was delivered.
'It's not okay'
But it was the behaviour of the defence barrister that she believed was unacceptable - in Mrs Barton's case a woman.
"They're allowed to ask you questions about your personal life, your intimate personal life," she said.
"She made a suggestion that I was 'scantily clad' around my flat thereby suggesting that even if it did happen I was in some way to blame for being dressed inappropriately.
"It's not OK for them to do that. That had no bearing on the case whatsoever. When I finished my evidence I was so angry."
'Recovery is possible'
Sabrina, now married with two children, has written a book called The Terrible Tuesday under the pseudonym Alana Corry.
"I started to keep a journal and I worked on it alongside my recovery. I didn't ever imagine I would be able to sit and talk about it and be okay with talking about it," she said.
"I wish I had been able to read my book after it happened because it would have shown me that recovery is possible but it's a long, slow process."
Mrs Barton has put her recovery down to the support of family, friends and a therapist.
"I can't wish the day away now because of where I am in my life, because I have a husband and kids and a career that I enjoy and I'm so proud of," she said.