Belfast councillors meet Audit Office over grants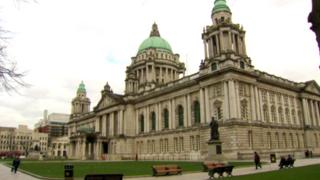 A cross-party group of Belfast city councillors is meeting the Audit Office later over concerns about grants allocated to some community groups.
The councillors say grants of up to £100,000 were handed out without proper checks and balances.
They say they have been silenced from raising concerns at council meetings.
The deals were voted through by the DUP and Sinn Féin at a council meeting last month.
Ulster Unionist, SDLP and Alliance councillors say this was despite objections from them and that the process lacked transparency.
They say the funding decisions were at the expense of many other groups who could do with public financial help.
The DUP and Sinn Féin outvoted their opponents and also voted to suspend the usual mechanism for councillors to raise concerns - known as a call in process.
That would have referred the issue to council lawyers, but it was said the process would take too long and the festival dates were too close.
Two festivals have benefited the most. The first is Féile an Phobail in west Belfast, in its 30th year it received £100,000.
Receiving the same amount is the lesser known Twaddell and Woodvale Eleventh Night festival. It also received £100,000, and it will be headlined by M People's Heather Small this year.
On Tuesday festival organiser Alfie McCrory told Good Morning Ulster that the event was only for Shankill locals.
"Its a local festival for local people. I need to stress that people will need to show ID that they live in the greater Shankill area," he said.
In a statement a Belfast city council said it "notes the responsibility of the organisation to promote good relations, and to be inclusive of the wide range and diversity of communities in the city.
"The award of funding has been made on this basis and Council officers will continue to engage with the event organisers to ensure the event is managed in keeping with the funding agreement."
Alliance Party councillor Michael Long says he will ask the NI Audit Office to "take direct action" to force Belfast City Council to "act in a more proper way".
"There is no process, no application forms, there are no strategic objectives, and the reality is that people who are rate payers cannot believe this is happening.
"A lot of people will be concerned that this is a carve up of ratepayers money by Sinn Féin and the DUP to give money to their handpicked organisations," he added.
Belfast City Council operates a diversionary funding scheme which groups bid for money through a competitive process.
The funding for Féile and Phobail and the Twaddell and Woodvale Festival was through a separate fund.
SDLP Councillor Tim Attwood says the funding scheme is a closed process and many other groups would like to have the opportunity to bid for the money.
"There should be a process where people openly bid and the best sustainable bids come forward," he said.